Bise Bela Bath is a fancy name for a one pot dish – Sambar rice!  Doesn't that sound wonderful…you could fix a complete meal in no time and call it a day! In general its always Solo Cooking for me…so, when the recipe calls for cinnamon and cloves…I consider it a feast…no matter what or how I flop the dish…it turns out fantastic. The best way to treat myself:)
Ingredients:
To Be Toasted Each Separately And Powdered Together:
Coriander seeds 2 spoons
Chana dal 2 spoons
Urad dal 2 spoons
Dry red chilies 6
Fenugreek seeds 1sp
Black pepper 1 tsp
Cinnamon 2 sticks
Cloves 3
Cumin seeds 1 spoon
Dry coconut grated 1/4 cup
Asafoetida.
For Pan Frying: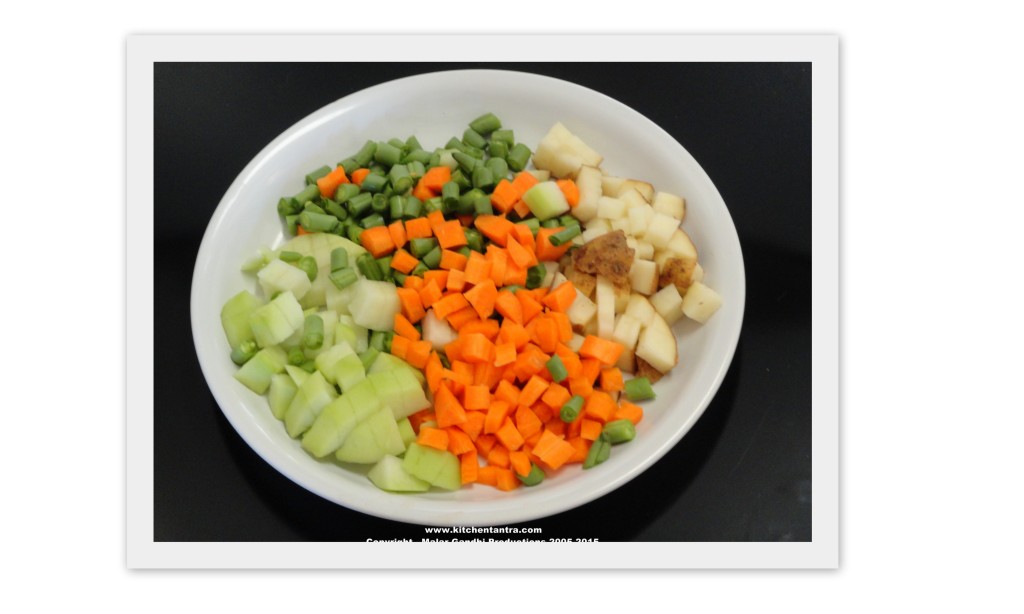 Onion 1 roughly chopped
Tomato 1-2 chopped
Mixed vegetables
Salt – little
Turmeric powder 1 pinch
Jaggery 2-4 spoons
Tamarind paste 1/2 spoon
Oil few spoons.
For Pressure Cooking:
Raw rice 1 cup
Thoor dal 1/2 cup
Salt
Turmeric powder 1-2 pinch
Oil few spoons.
For Seasoning:
Ghee few spoons
Mustard 1/2 spoon
Cumin 1/2 spoon
Asafoetida 1/2 spoon
Curry leaves few
Coriander leaves, to garnish.
Method:
In a pressure cooker, cook rice and lentils together along with other mentioned ingredients. Cook really until its very soft and mushy.
In a sauce pan, heat oil and stir-in onions n vegetables. Saute them real good.
Add salt, turmeric, jaggery and tamarind paste now. Cover and cook till the veggies are done.
When the rice is done, mix the stir-fried veggie's plus powdered spices to it. Cook over low heat for a while. Allow the contents to be done uniform, and it should be aromatic by now.
In a separate pan, heat ghee. Add seasoning ingredients one by one. Wait till they pop and splutter.
Now run this seasoning over the rice dish. Mix them once again thoroughly. Garnish with cilantro leaves!