If there is one cuisine (apart from an eclectic mix of many other) I had to eat all my life, I would probably choose Indo-Chinese. Why? The spices are mild, every dish is invariably with more vegetables, made with tangy-sweet sauces, and most of the dishes have a vibrant freshness to them (Green onions, bell peppers). So yes, why not? However, now a days…it has become my routine to prepare something Chinese at the end of the week, as an excuse to use-up all the left over veggies.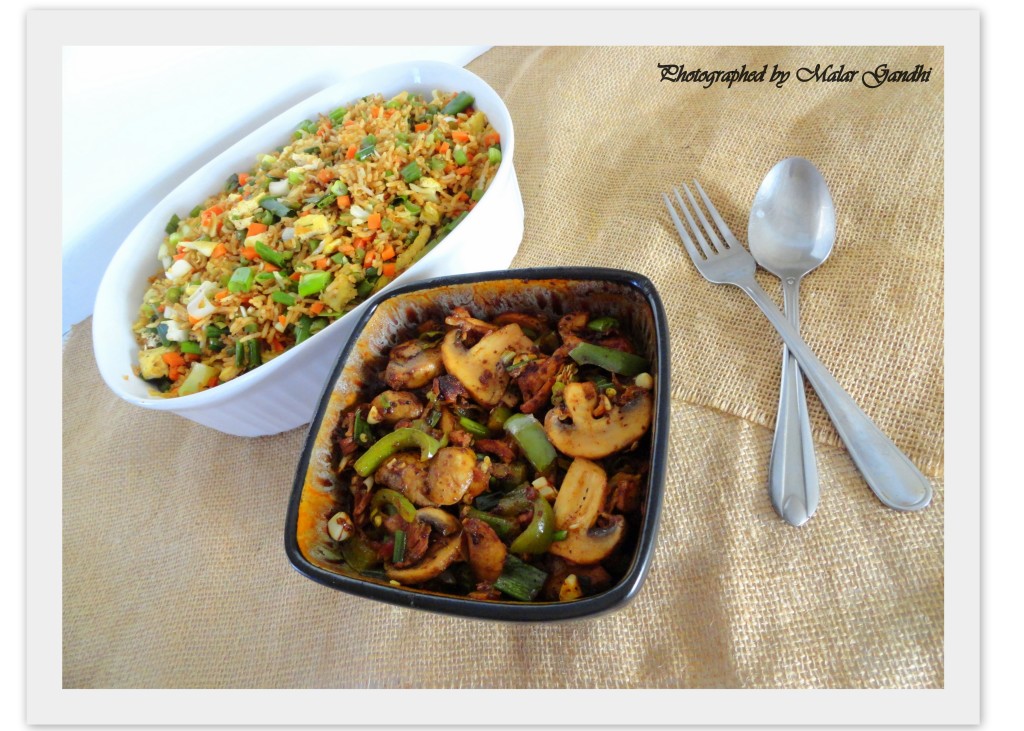 Ingredients
1 bag mushrooms, sliced
2-3 bell peppers, sliced
1 onion, sliced
2 inches ginger, grated
3 green chilies, slit lengthwise
salt to taste
1 pinch turmeric powder
1/2 tsp chili powder
1 tsp pepper powder
oil few spoons
green onions to garnish
Method
In a wide wok, heat oil and add chilies and onions to it. Stir-fry over high and then add ginger, salt, turmeric, chili and pepper powder.
Then, add mushrooms and fry over high heat until they wilt and reduce. Once its done without much moisture, add bell-peppers too. Fry over high heat for few more minutes and remove from heat.
Garnish with green onions. Serve warm to go with Fried Rice and Noodles.