These are some of my articles that have been featured in The Press. I'm a food columnist for a local daily The Oxford Eagle and a regular contributor to IndiaCurrents, a magazine that caters to the Indian diaspora .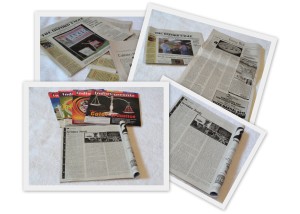 Food and culture go hand in hand and cuisine leaves its own imprint on history. India has witnessed more than a dozen of invaders; with every invader came a different culture and a new cuisine. Muslim invaders like Turks, Arabs, Persians, and Afghans introduced the culture of feasts to India. The Mughlai cuisine that India is famous for developed from the 15th century to about 19th Century during the reign of the Mughals. They raised cooking to an art form, introducing several recipes to India like biryani, pilaf, and kebabs.
While biryani is popularly associated with the Mughals, there is some historical evidence to show that there were variants of the dish prior to their invasion. There is mention about a rice dish known as "Oon Soru" in Tamil as early as 2 AD. The famous traveler Al-Biruni also has precise descriptions of meals at the courts of Sultans who ruled parts of India prior to the Mughals. These also contain mentions of rice dishes similar to the Mughal biryani. However, there is no doubt that Islamic Persians inspired and popularized the dish.
The word "biryani" comes from the Persian word "birian" which means "fried before cooking." Based on the cooking style of Iran (modern day Persia), where the rice is fried briefly before cooking, one could conclude that the biryani originated in Iran. Another interesting story traces the origins of the dish to Mumtaz Mahal(1593-1631) the queen of Shah Jahan for whom the Taj Mahal was built. It is said that she once visited army barracks and found that the army personnel were under nourished. She asked the chef to prepare a special dish which provided balanced nutrition, and thus the biryani was created.
When the British deposed Nawab Wajid Ali Shah to Kolkata (formerly Calcutta), this gave rise to the Calcutta biryani. Nizams governing small territories in South India created regional variants like the Hyderabadi biryani, and the Arcot Nawab biryani. The biryani recipes of the Mughals can still be found in places where their empire had a foothold.
Once a dish for royalty, today the biryani reflects local sensibilities and traditions and is a popular and common dish. Here are two biryani recipes that reflect the predominantly vegetarian Indian society.