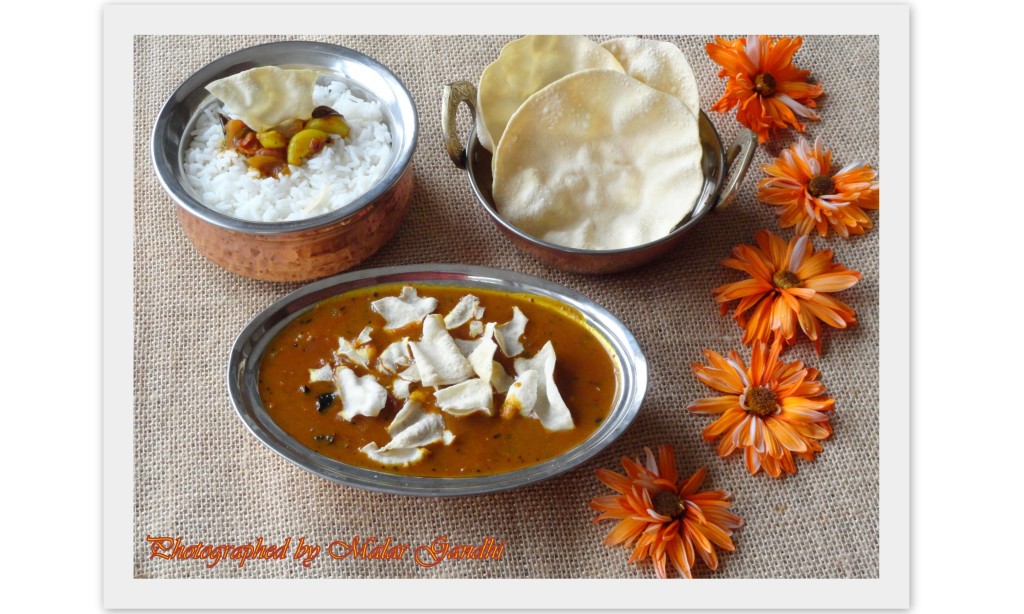 For those of you, who keep up the traditional recipes…this post is going to be an old hat! However, when you crave for something ethnic…this dish could certainly awaken your senses. Well, there isn't really anything fancy about the curry though! Hmmm, its one more tamarind based sauce, where you throw in some leftover crushed appalams!! Yet, this humble dish is good enough to give you warmth for this dark-gray cold winter, here.

Ingredients
7-10 appalam
10 garlic cloves, crushed
1 large onion, chopped
1 tomato, crushed
1/4 cup tamarind water
salt
1/4 tsp turmeric
1 tsp chili powder
1/4 mustard seeds
1/4 tsp cumin seeds
1/4 tsp asafoetida
1 spring curry leaves
2-4 Tsp sesame oil
Method
Microwave the appalam for a minute or two. Only 2-4 at a time. Set these aside.
In a wide pot, heat two spoons of oil and add onions, garlic and tomatoes. Fry real good and then add salt, turmeric and chili powder to it.
Further add the tamarind water and maintain the heat over medium range until the curry thickens.
Now, in a separate pan…heat oil and add those tempering spices and wait till they pop. And run this seasoning over the curry made.
Crush those toasted appalam and add to the curry as well. And, serve warm to go with your steamed rice.