When we connect with food. It's not just the food…it's more than that. Its…in fact,  the connection that we make with memories, people and time. So, on the other day…I made pasta for dinner. It was quite a humble dish…all until, I shared the picture with my best friend. And, she started craving for it right away. I wish I could send this dish over to her place! But, right now…all I could is…to share this recipe. So, please feel free to grab your forks.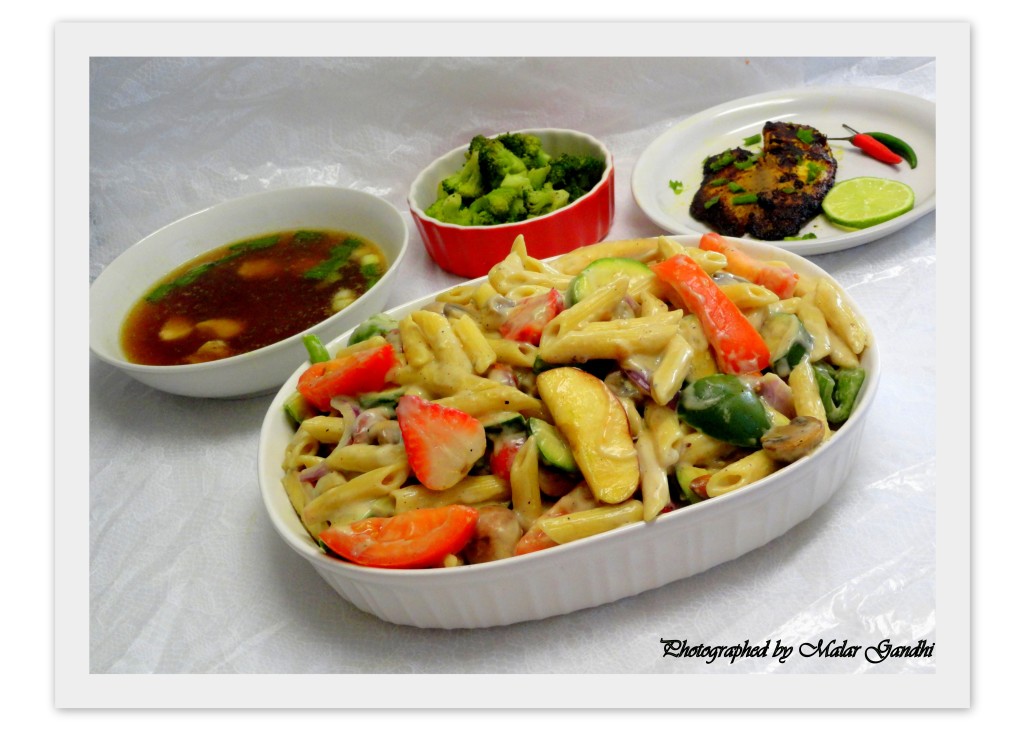 Ingredients
1-2 cups penne pasta
1 bottle alfredo sauce
1/2 cup cream cheese
1/2 purple onion, sliced
1 red or green bell pepper, cubed
1 box mushrooms, halved
1 zucchini, sliced
1 squash, sliced
1-2 roma tomatoes, wedges
5-7 strawberries, halved
1 apple, sliced
1 cup almonds, toasted
olive oil few spoons
cheese to garnish
parley to garnish
Method
Boil penne pasta as per the directions in the box. Rinse and set aside.
In a wide wok, heat oil and add all the vegetables and saute for a minute or two. Set aside as well.
In the same wok, add cooked pasta, sauce and cheese. Mix well. Further add vegetables to the same.
Top it with fruits and nuts. Mix thoroughly and garnish with extra cheese and parley. Enjoy semi-warm as a meal.