The daily act of cooking your meal is so very special back home! If you are part of a Tamil household…you could relate to what I mean! We put all the spices in mortar and grind it, before using it up in cooking! Back home…every sacred act (such as boiling water), will call for a special spice, you know! So, what am saying is…basically we Indians eat, walk, sleep and think – in spice!!! There will be at least one personal spice /spice blend for each one of us (we are billion people out there)! You get the drift, right!
Now…if you ask me, what's my favorite flavor…I'll say it aloud even under anesthesia, "Garlic". Yeah, it's the one that dominates my culinary world. Hmmm, I know…its gonna give creeps to many garlic haters out there! But, you see…I happen to love it! Whether wading the bad spirit or welcoming the new guest…its a must have item in my pantry!  It's sure my secret (not so secret with its strong aroma) ingredient to many of my speciality dishes.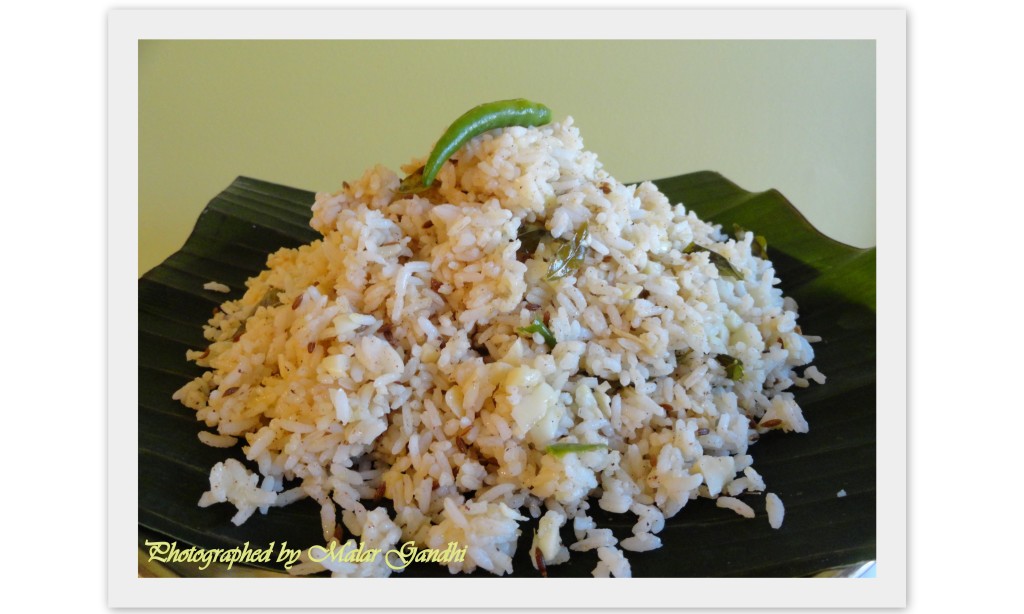 Ingredients
1 cup cooked rice
4-5 tsp ghee
10 garlic – minced
1 spring curry leaves
1 tsp pepper powder
1 tsp cumin seeds
Method
In a wide wok, heat ghee and add cumin seeds plus curry leaves. Then garlic and pepper powder. Fry real good, until aromatic.
Then add rice to the same and stir-fry over medium heat. Until oil coats to all the sides.
Serve it up warm. Enjoy.