Happiness Number – 1 What makes you a very happy person? Lemme tell ya…the secret to my happiness is…to pull the legs of my loved ones…to give prank calls…name a 'dish' after me …try to decipher the meaning behind the word 'Special Saadha Dosa'! Actually…this sounds more like my bucket list rather than 'Happiness Check List'!! But, anyway…am basically 'gaga' over everything stupid! And, isn't that obvious already?
Happiness Number – 2 And, do you know there is a difference between a pan beeda and Zarda pan beeda. They sprinkle something in, which would eventually make you a very happy person. Or at least for the next few hours!
Happiness Number – 3 And, then…there is yet one more kind of happiness!  One day you just realize that you are more likely to have a third cup of coffee rather than a full plate biriyani, that's when you really know that you have grown up.
Hope you all guessed it by now…all this 'Zen' moments of 'Happiness' bit was going on, because I have been chatting with my good ole friend! What makes one really 'Happy'? And, did we complete our childhood? And, I seriously wanna know, whether my childhood is even over?!
Okay…looks like, am going off the track from this blog's very purpose, that is…to post a recipe and write an anecdote, quite relevant (actually very irreverent) ! Hmmm, yeah…on a cold winter days…'Warm Cup Of Comforting Soup' is sure one more kind of Happiness.

So, here you go…Enjoy.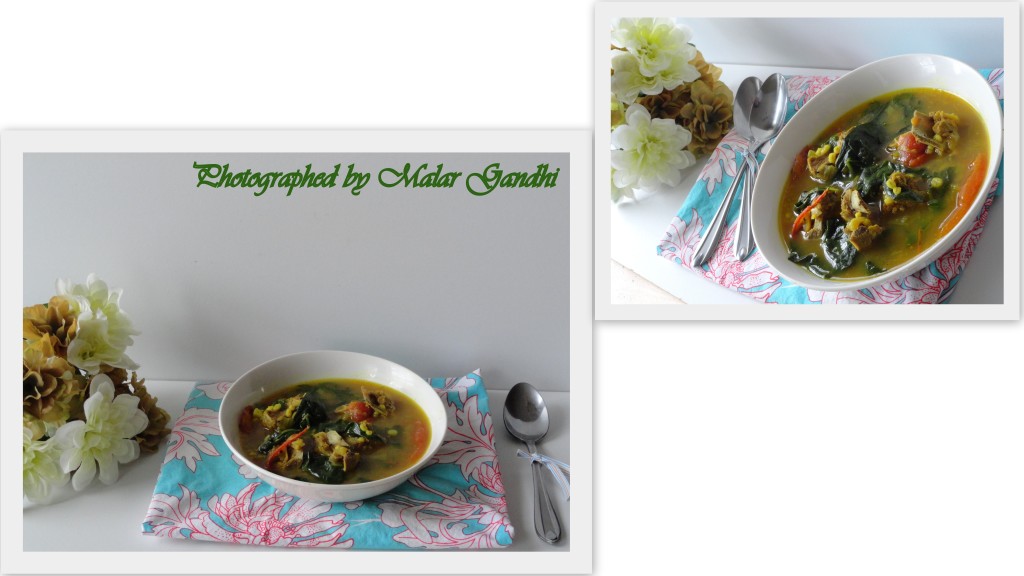 Ingredients
1 cup mutton, cooked to tender, retain broth
1 cup cooked barley, washed and held
1 cup baby spinach
1 chili, minced
1 tsp ginger, grated
2 garlic, minced
1 bulb onion, chopped
1 tomato, crushed
pinch of turmeric
salt to taste
1 tsp cumin seeds
few tsp oil
Method
In a wide wok, heat oil and throw in all the spices and then add meat broth, barley and spinach. Cook until the leaves wilt and sink in. Ladle this up in a soup bowl and go gaga.