Also Known As: Hotel Style Tiffin Sambar. Idly Sambar. Tiffin Sambhar, Thanni Sambhar.
Ingredients:
Mixed Vegetables (Eggplants, Pumpkin & Drumsticks)
Indian Green chilies 3, sliced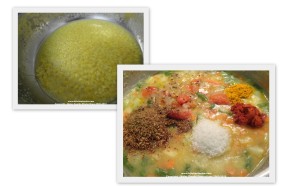 Pearl onions, sliced thinly
Country tomatoes 2, crushed
Thuvar dhall 1 cup
Salt
Turmeric 1/4 tsp
Chili powder 1 tsp
Tamarind paste 1/2 tsp
Oil few spoons
To Be Toasted and Powdered:
Fenugreek seeds 2 tsp
Coriander seeds 2 tsp
To Temper:
Oil few spoons
Mustard seeds 1/4 tsp
Cumin seeds 1 pinch
Asafoetida 1/4 tsp
Curry leaves few.
To Garnish:
Cilantro leaves few
Grated coconut 2-4 tsp
Method:
Cook thuvar dhall on stove top, without using any lid over low-medium heat…until tender. Do not use pressure cooker. Its gonna be slow-cooking…sure this method imparts considerable flavor.
In a wide vessel, heat oil. Add chilies, onions and tomatoes…fry real good. Once the onions are brown and tomatoes wilt…add salt, turmeric and chili powders.
Further add the vegetables plus 1 cup of water. Cover and cook.
Add cooked dhall, tamarind paste and powdered spices. Once the vegetable is done till tender…remove from heat and top them with tempered spices. Garnish them as you please.
Serve to go with your idlies or dosas.