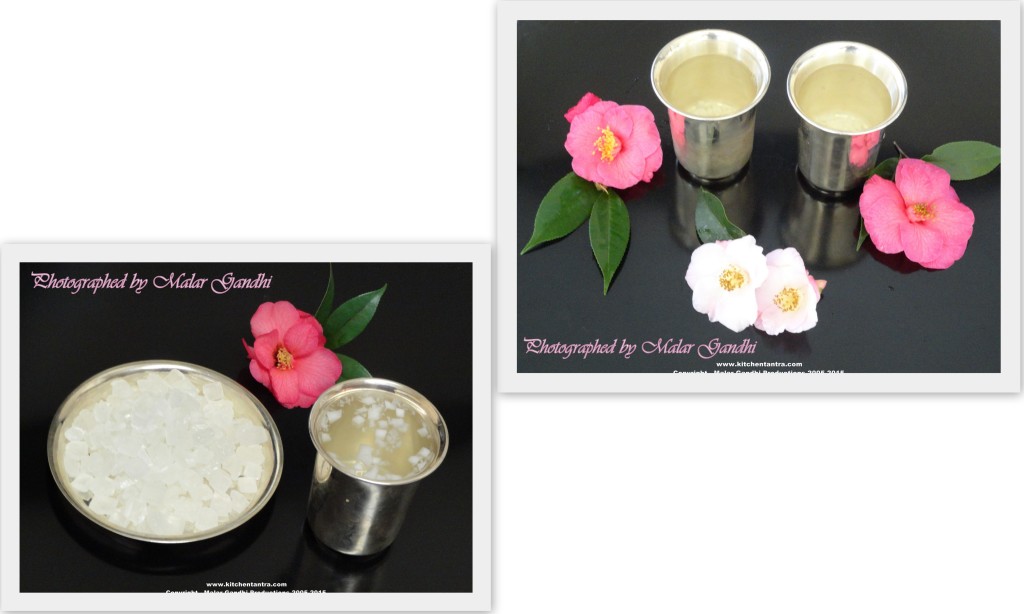 I feel terrible to give you all a recipe for 'Tender Coconut Water'. I mean, that's really nothing from my part, right! Just break open the nature's best harvest and empty the contents, that's it. So, to add some twist to this humble common man's drink…I topped it with some shredded tender coconut pieces and a pinch of palm sugar. The extra effort looked fantastic, when I served forth. I really loved eating those soft tissues at the end of glass.

Indeed, ultimate refreshment.
How To Select A Quality Tender Coconut

Select a nice tender coconut. That is not too young and that is not mature enough to be a coconut. Somewhere in-between. So that, the water would be sweet with some soft pulp for you to relish. If you pick up the ones that are too tender…the water wouldn't be sweet enough and it will be lacking the pulp! And, in case of mature ones, they have a nutty taste to it with very little water!
Shave the top end with a sharp knife and make a tiny slit through. Empty the contents (water) into a glass. Then, break open the nut into two equal halves and scrape away the pulp using a spoon. Now, add this pulp to the water as well. Further add a pinch of palm sugar or lump sugar to it. That's pretty much…you are almost done. Serve chilled or at room temperature.