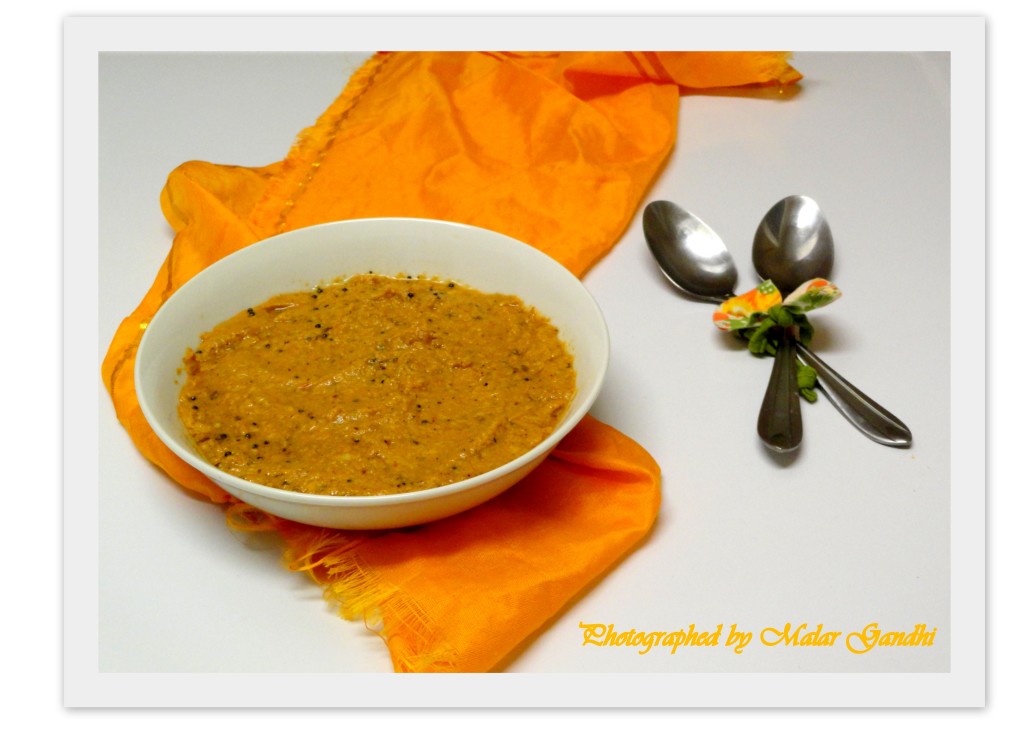 One thing about Salem,…they have wide choice of tiffin items than many other places in Tamil Nadu (in my opinion). The Salemites are really good at preparing dosas with more than 50-60 different kinds of side dishes (chutneys and podis). Sometimes I think, I can keep trying each one of it, all my life.

I think, they would never get bored of their breakfast or evening meal…because every time they dine, its gonna be a surprise.

One of their special chutney is this basic 'Kaara Chutney'. Even though its a very coomon dish in our Tamil household. Salemites make it ultra-special…that, one could go drooling for days. So, here you go, my humble take on the dish.
Note Listen up, modern enthusiastic cooks. Please do not use food color or kashmiri chili powder to bring out the color effect.
Ingredients
1-2 Tsp thuvar dal
1 bulb onion
5 garlic pods
3-5 dry red chilies (the best kind)
3-5 roma tomatoes
salt to taste
sesame oil
To Temper
few spoons sesame oil
1/2 tsp mustard seeds
1/2 cumin seeds
1/4 tsp asafoetida
1 tsp urid dal
few curry leaves
Method
In a wide wok, heat oil and saute chilies, lentils (thuvar dal), garlic, onions and tomatoes. When tomatoes wilt, add salt too. Wet-grind this to thick paste and set aside.
Temper the spices in hot oil and run the seasoning over the chutney prepared. Serve up to go with your idlies and dosas. Enjoy.