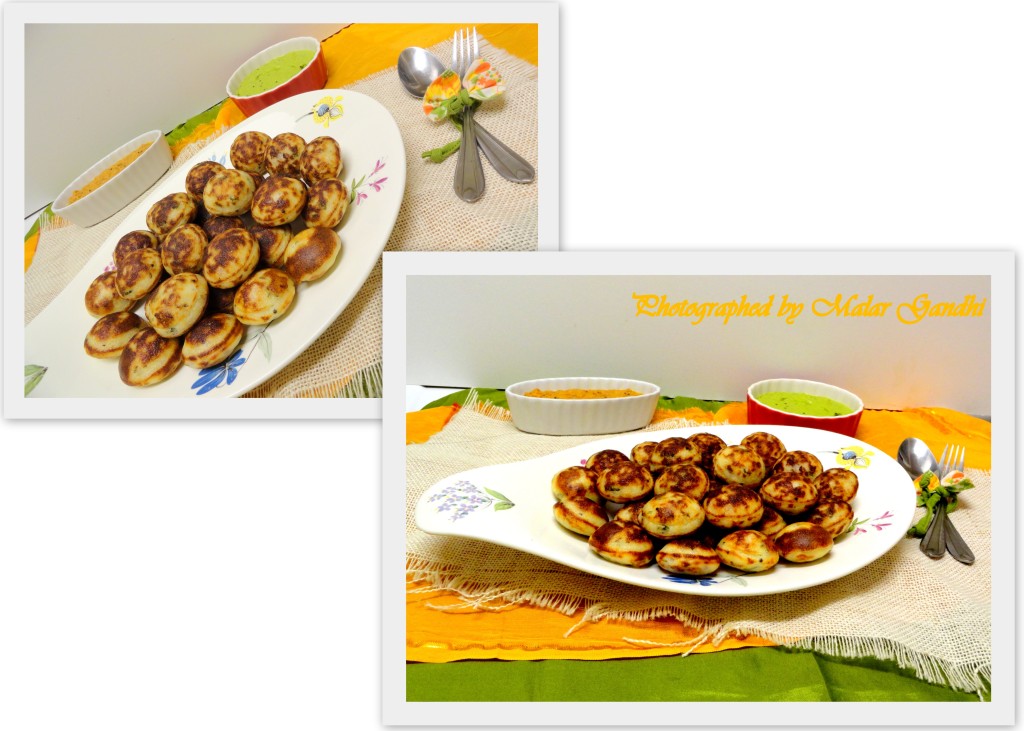 Regarding Kuzhipaniyaram, its a perfect dish to make an ordinary dinner meal a total extravagant experience. Just a bit of minor tweaks to the regular idly-dosa batter…boom…the yummy paniyarams are ready. It brings out the child in every one of us. Its a perfect finger food for kids and adult sized kids.

So, there you go…
Ingredients:
Dosa batter 2 cups

Spanish onions small 2
Green chilies 3
Salt
Asafoetida 1/4 spoon
Chana dal 2 spoons
Urad dal  2 spoons
Mustard seeds 1 spoon
Cumin seeds 1 spoon
Curry leaves few
Sesame oil few spoons
Method:
In a wide wok, heat oil. Add all the spices and followed by finely chopped chilies and onions. Fry real good, till they turn golden color.
Now add these to batter. Mix well.
On paniyaram molds, smear enough oil. Fill the batter up.
Slow cook them over low-medium heat. Once yous ee some golden color on the sides, carefully turn them using a skewer/ they do give a sharp needle to go with this vessel, better use it.
Cook them on the other side too.
Serve warm with chutney. I hope you all will like it. Enjoy.