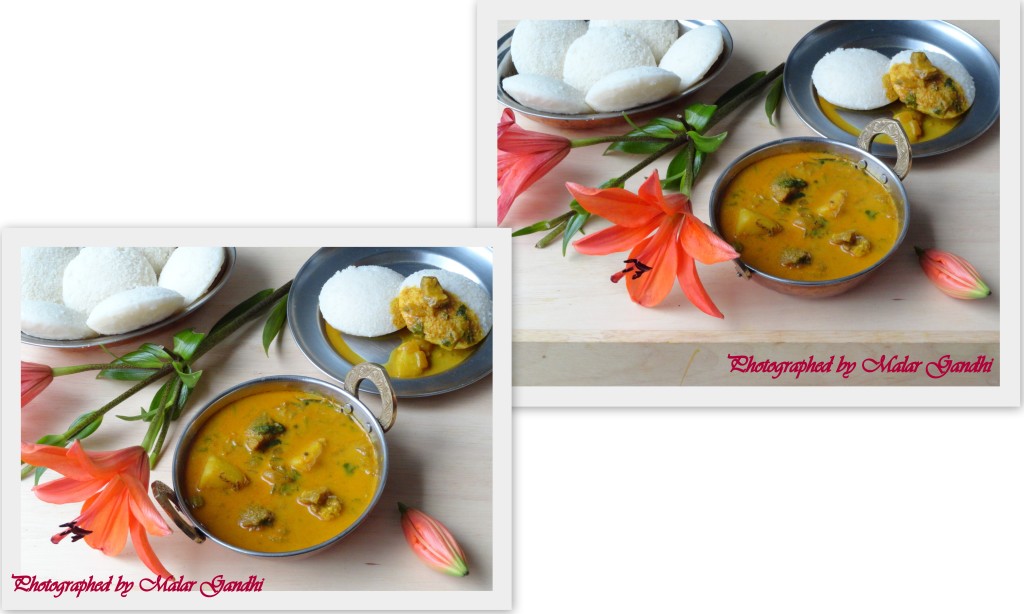 I have got this weird idea of pairing the meat with whatever vegetables I come across! My hands can never repeat the item I have experimented, twice in a row!! So, there is no predictability in my kitchen! Absolutely…off the hook!!! However, there are some occasions, I go by the plan, you see!  Do, follow the script, hehe.

Oh yes…for today's recipe, this isn't that odd combination after all. I know, many of us have done this version over zillion times! Moreover, people love this combination! I just like the simplicity of the dish. So, there isn't much to exaggerate from my end! Hmmm, its splendid! And amazingly soaks the spongy idlies, pillowy appams and paper thin crispy dosas. Yep, its Mutton-Potato korma it is.

Ingredients
1 lb mutton
2 large potato, cut into wedges
3 green chilies, slitted
1 large onion, sliced
2 tsp ginger-garlic paste
2 tomatoes, crushed
salt
1/4 tsp turmeric
1 tsp chili powder
curry leaves few
1 tsp fennel seeds
3 cloves
2 cinnamon stick
1 cup coconut paste
4 Tsp oil
cilantro to garnish
Method
Pressure cook meat and set aside.
Heat oil in a pan, and add the whole spices.
Followed by chilies, onions and ginger-garlic paste. Fry real good, until aromatic.
Now, add tomatoes plus potatoes. Stir-fry over high and add the powdered spices as well.
Further add the meat along with its broth. Cover and cook until the potatoes are tender.
Now, add the coconut paste to it and continue cooking over medium heat for few more minutes.
Finish it with chopped cilantro leaves and remove from heat. Serve warm to go with your South Indian breakfast items, like idlies, dosas and appams. Enjoy.