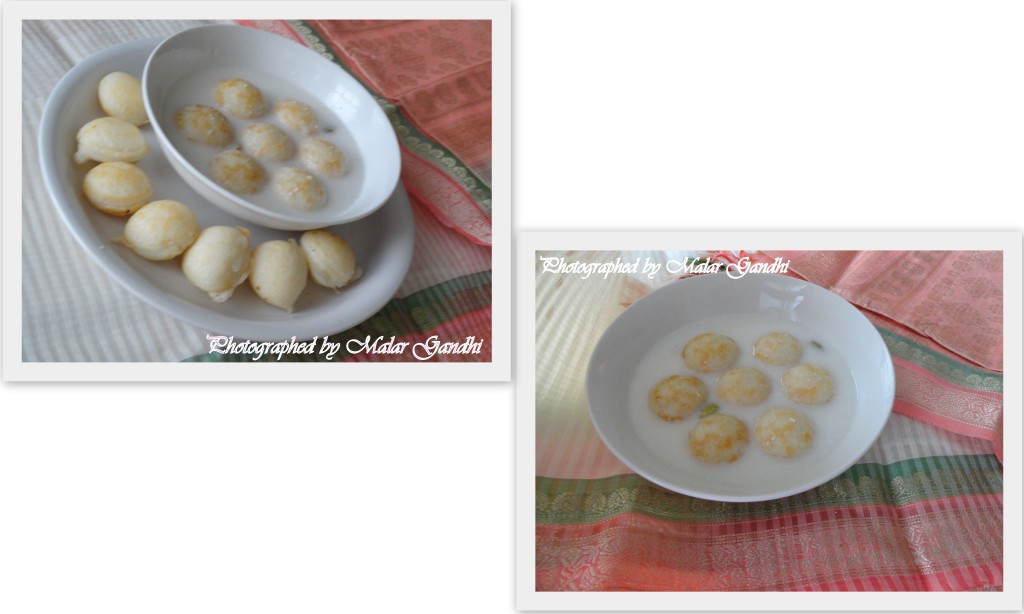 Another snowy day sets in and the ice-age has began! Given the cold and icy weather…a warm breakfast seemed in order this morning. I browsed the pantry for a while and decided on 'Paal Paniyaram'. Its technically a dessert, and calls for too much of sugar than I would normally use, but the day needed it!
Well, the paniyarams were in good shape, soaked well-ahead in sweetened coconut milk…which  gave a nice aromatic kick to begin the day. But, the pictures couldn't do any justice to it! Let me blame it on the weather and poor lightings plus I was in a hurry to click them before anyone gets it.

Ingredients
1 cup raw rice
3 cardamom
1-2 cups coconut water
4-5 cups coconut milk
sugar to taste
ghee to smear
Method
Soak the rice an hour before you intend to make this breakfast. Then, wet-grind it to thick paste. Add coconut coconut water to grind instead of plain water. Add cardamom powder as well. Now fry them in paniyaram ladles briefly or until they are golden brown.
In a separate bowl, mix sugar, cardamom and coconut milk. Add these paniyaram to it and let them soak for about 20 minutes. Serve them chilled as breakfast or dessert. Enjoy.