If you have high demanding work schedule and still wanna be on the track'(that is eating healthy meals, without getting carried away from those highway junks!). Probably we should thank the Internet world for keeping us all well-motivated to cook and clean, (everyday or few days a week) hehe:) No, jokes apart' whenever I feel all exhausted…and allow my tummy to think for itself, oops am trapped into one of those 'ready made crap' that is loaded with salt, sugar, refined flour and what not! It takes few mouthfuls to realize that…boy, I should have cooked…I shouldn't be lazy anymore!! And moreover it takes only 10 minutes to create a meal (if am super organized that day). So, focus-focus is the mantra here, I guess!! Before doing huge damage to the waistline, let us cook a meal and catch up a movie…how is the deal sound to you?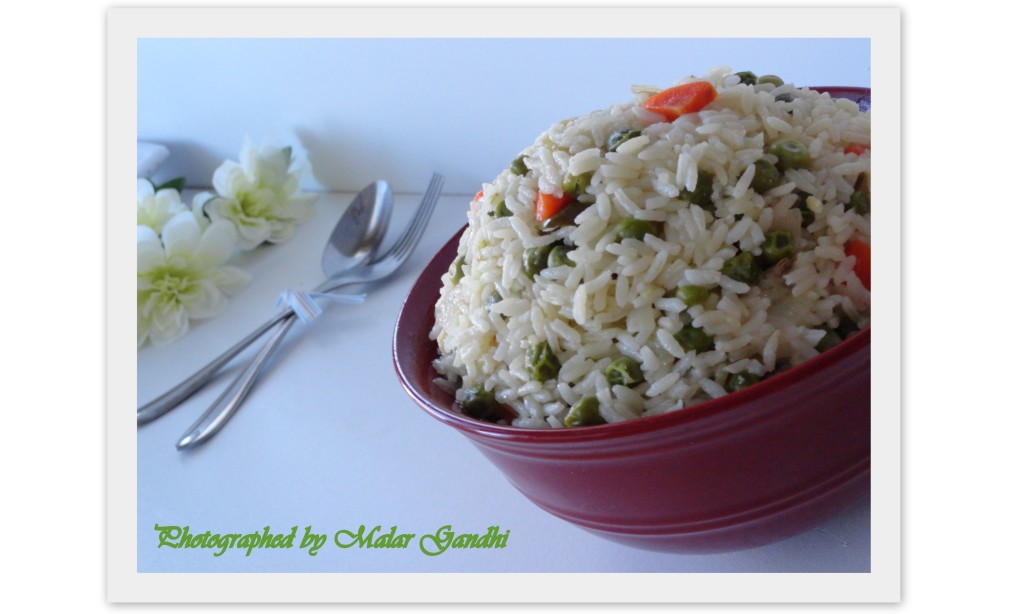 Ingredients:
Basmati rice 1 cup
Fresh/frozen peas 1 cup
Onions 1 large sliced
Ginger-garlic paste 1 spoon
Green chili 1 large
Salt
Cloves 3
Cinnamon 1
Bay leaves 1
Cumin seeds 1/4 spoon
Ghee/oil 1 table spoon
Cashew nuts to garnish
Method
Heat up a vessel, add oil and followed by whole spices. Further add chilies, ginger-garlic and onions. Fry briefly.
Add rice, peas, salt…2 cups of water. Set the stove at low-medium heat. Cover and cook.
Once the rice is fluffy and tender, its done….ta-da:)
Serve warm with raitha or spicy gravy.