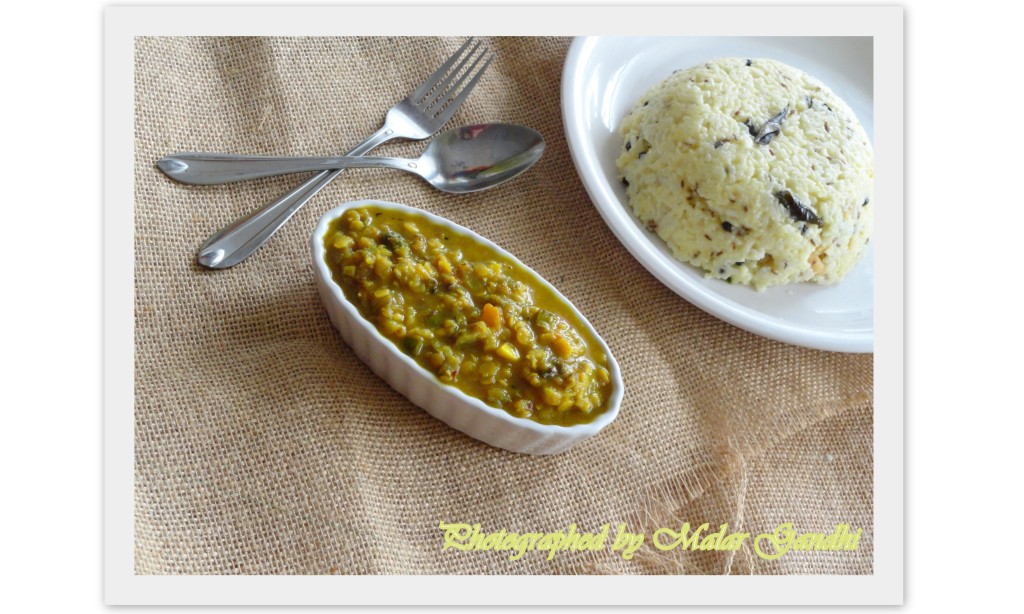 Breakfast is never my thing. I wake up every day with absolutely no intention to cook. I brew my coffee and just gear up.

I feel that the level of creativity is high, when am not bothered about food and menu planning (or at least for myself)! Anyway…the weekends schedules are of different league…where I meticulously plan and re-plan the brunch ideas! Its something that had to be perfect, elaborate, and comforting.
So, breakfast is nice. And, a warm and fulfilling meal is even better, right?!  A quick fix dish is something that would save my day! For an easy solution, put the pot on heat and cook some dhal already! And, if you are an Indian…the chances are…you will end up using it anyway.

By the time, the lentils get mushy…a quick look into the refrigerator will let you know, which vegetable need to be salvaged first. So, I decided on ridge gourd this time. It turned out just perfect.

 Ingredients
Ridge gourd 1/4 kg diced
Thoor dal 2 table spoon
Green chilies 4 sliced
Tomato 3 chopped
Onion 1 large chopped
Salt
Turmeric 1/4 spoon
Oil few spoons
Seasoning
Fry cumin seeds and few curry leaves in oil. And run this over the Kothsu made.
Method
In a pressure pan heat oil and let the green chilies splutter in it.
Add onions and tomato to it. Let it fry for a while.
Add salt and turmeric powder. Followed by ridge gourd. Fry till oil is coated well with these ingredients.
Add lentils and pressure cook till 6-8 whistles. Then season it and serve warm to go as a side dish for Pongal.