Also Known as: Anasipazha Halwa, Candied Pineapple.
There should be some sort of stricter rule for me to stay connected with the world! I live in the woods, in the deep country side, where there is no sign of civilization for several miles. The only way to prove my existence is by my personal effort! Yeah, I just pick up that damn phone and dial my Dad's number. Though communicating with strangers is the last thing to do…strangely am flaring in it…hmmm, for years I forced myself to blog, don't I? And the good part is, it worked!
Well, now…the life is compelling me to stay active at other areas and I find it pretty hard to blog regularly. So, me being offline and busy with stuff…my journal goes weak, here:( It appears hollow and vague to scroll through the pages….seems like as though I didn't contribute anything! And piece of me is vanishing!!! Wish, there is some sort of convection to make me more obligated to exchange pleasantries regularly! Truly miss blog hopping and reading all your entries…
Ingredients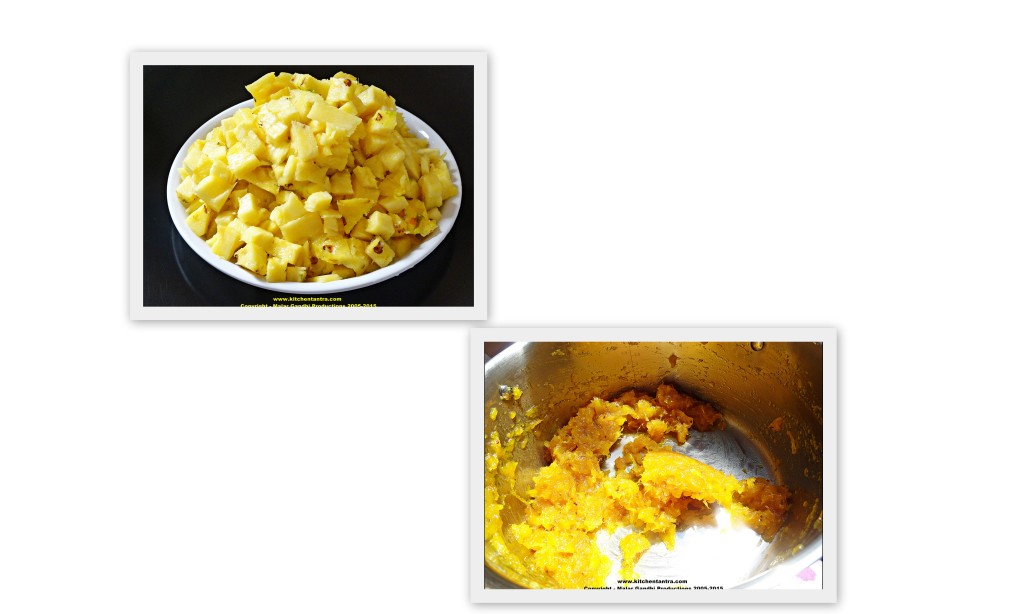 1 pineapple, grated
1 cup sugar syrup
3 cardamom
1 Tsp ghee
Method
Heat the vessel, add enough ghee plus sugar syrup and followed by crushed pineapple and cardamom powder. Cover and cook briefly until the fruits turn into pulp. Now remove the lid and continue cooking over medium heat until all the moisture is evaporated. Once it comes out like a smooth halwa without being stuck to the vessel…you can say, its done.
One could improvise it with fried nuts and raisins. I thought the whole pineapple halwa itself bit overwhelming…so skipped that procedure. Serve chilled as a dessert. Enjoy with your beloveds:)