Wish you all a very Happy New Year.

May all your dreams come true.

I think, its time to begin the New Year with little celebration! Any guesses? Did earth spun faster or what? Yep, the gravity took its toll…my dear-devil turned two, today.

 Although I had been preparing for her birthday party since November, the enormity of it, hit me only when I decided to bake a cake! Not just a cake that we eat…but rather something to smash and photo shoot. Since my little one loves this song so much, 'The Wheels On The Bus'.  And, every evening she runs to the Sun room to see the school bus passing by. It became my natural choice of theme.

And, I was pretty determined that I could tier up couple of cakes onto something and make it appear like a bus. If you couldn't resist snickering! Hey, I didn't say its a masterpiece, alright! So, here is my lovely attempt for her.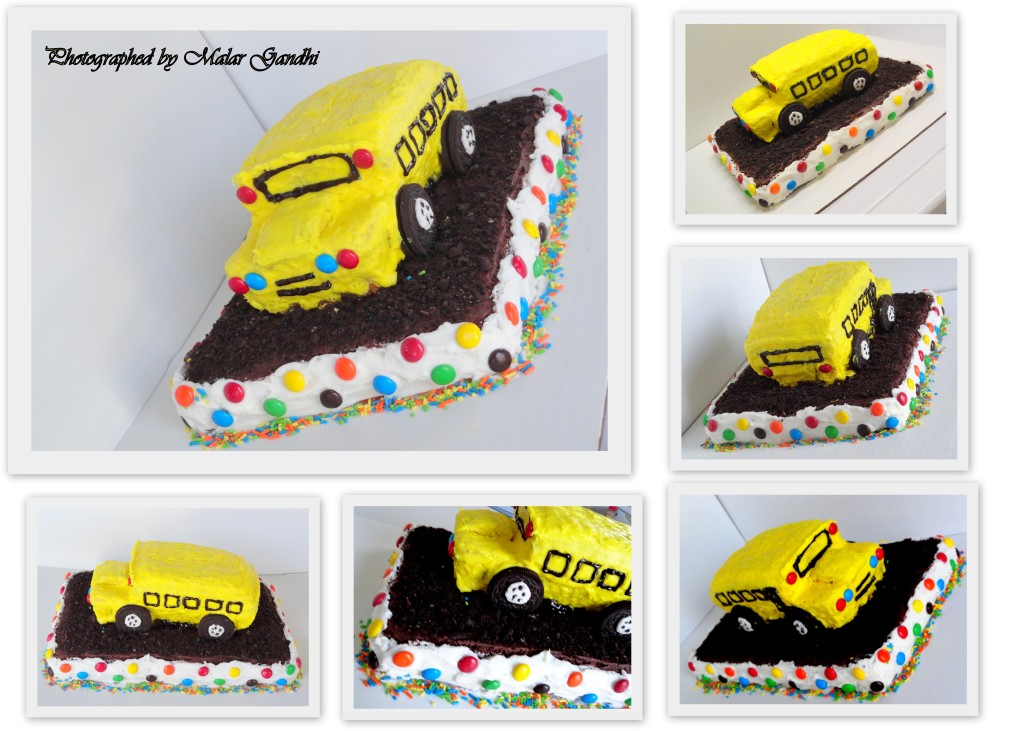 The Making Of School Bus
Chocolate cake
Lemon cake
Oreo cookies
M & M's candies
Lemon yellow frosting
Chocolate frosting
White Frosting
Note If you are uptight about the finishing touches with frosting. Just forget frosting and go for fondant sheets. Roll it, cut it and pin it or whatever. Since, we all three hate sugar and sugary products…we kept it simple with light icing! Moreover, we scraped it entirely before plating it up.

I baked a flat  (about two inch thickness) chocolate cake for the road. And, basted it with chocolate frosting and dusted some grated Oreo cookies to get that black highway effect. Now, you could get even more creative and plant some green lush on to the sides and draw a white dividing lanes if you have enough room for it.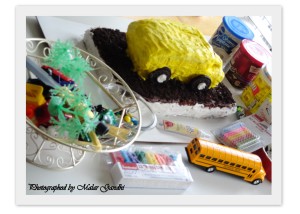 For the school bus, I choose yellow. Not a bad choice…but orange hue would have done more justice to it, I suppose! I baked couple of lemon cakes in a bread pan and planned on gluing them up. However, got bit creative and just chiseled a single cake into a bus. How about that.

Oh yeah…remember to add an inch thick cake before you mount it over the chocolate cake, alright! Because…later on, you will be adding four wheels to this bus and you may need some space for it! Okay, after mounting…cover it with lemon frosting, glue the Oreo cookies on the sides. Draw few windows and a doors etc. Instead of drawing, you can also dark chocolate squares as windows. That's up to you!  Finally, stick up the candies as headlights. Voila.