Thai Style Stir-Fry:
In the world of more n more anonymity, people pick up strange habits of nit-picking on others. And online free-advise is so fashionable these days! Oh yeah, I still keep receiving those awful negative comments at my food blog: Kitchen Tantra dot Com. Though I don't have any objection for this suggestion list…unfortunately, my blog has survived a huge crash and ever since, I couldn't edit, publish or update any of the stuff! Yes, including the comments:( Sorry for the inconvenience my Anonymous Friends, I couldn't publish none your comments!! Otherwise, it would have been fun answering some of your questions:) Here you go my take on your wonderful suggestions…
1. Like one of the comment read, 'how I should be typing the ingredients list and recipe in Tamil instead of English!
I understand, I understand…I should take pride that am a Tamilian…but you see, others (non-Tamils) might also want to try my humble recipe, right! And moreover, I never learned my own mother tongue during school days. I can only speak:( So, it may not be easy for me to suddenly develop a skill that you are expecting:(
2. The other comment was bit rude saying that 'I have done a huge blunder by writing 'Gooseberry ' as 'Amla' in Hindi and as 'Nellikai' in Tamil. Whereas I should have written it as 'Nellipuli' in Malayalam. And how I forgot that little detail:(
Okay, okay sweetheart, I will try to remember that next time!!
…Coming onto today's recipe, I can't tell you…how much I love this Thai-Style of cooking. It only makes you to crave more. Vegetables are made so delectable with a hint of their special soy-sauce. I am being very fond of this stir-frying, ever since I bought those large woks, it only makes my job easier:)
Hmmm, I forgot one thing, hope my anonymous friends won't expect me to type the recipe in Thai!! Or would they?! Oh Pulease…
Ingredients: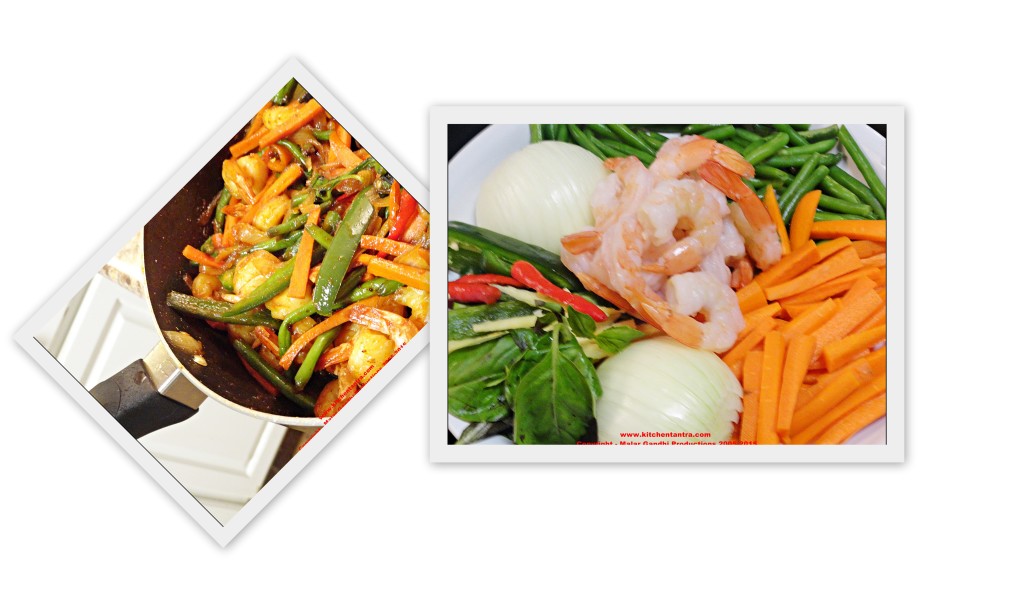 mixed vegetables
1 c shrimps
1 onion, sliced
2″ ginger, grated
2 pods garlic
3 Thai chilies
basil leaves
Thai soy sauce
sesame oil
Method:
In a large wok, heat oil and stir-fry shrimps and veggies separately and then toss together. Now, add the sauce and basil leaves and stir-fry over high until aromatic. Serve warm with fried rice.