I have tried numerous ways to entice people to take up the presidential position in my kitchen. However, the chair is still vacant! First, I asked for little help, then EMPHASIZED it little more (I need damn help, you idiots). But, nothing worked.

Expected volunteers, gave rewards, and freebies. Showed cue cards, cheat-sheets, app alerts…none of my tricks budged so far.

Only recently, I found out that people are real suckers for coupons. Lemme try this now!!
So, here is a real deal
Bear hug once in while – 5 points
Vacuuming the house – 10 points
Laundry – zero points (that's under the initial contract)
Grocery shopping – 15 points
Cleaning the bathroom – 20 points
Turning off the TV for few minutes, when I want to talk – 25 points
Cooking a meal – 50 points
Not telling my friends, how I cried watching a Tamil movie – 75 points
Not criticizing me in public for my poor direction sense – 100 points
Moon light walks – 500 points.
To redeem your Gold points, see catalog below.
Dal

– 100 points (for five bathroom cleanings, I think this is a real deal)

Poriyal

– 500 points (I can see this product not selling)

Halwa

– 1500 points (Maybe, I am dreaming way too much!)

Mutton Biriyani

– 2000 points (Yum, oh wait a minute…what if I want to eat this now? I have to wait for four moonlight walks…that's a freaking lifetime!)

Top Ramen Noodles

– 5000 points (this is something close to reality).Take a wild guess, who cooked after all this? Who else, but me. Here, is a wonderful recipe for Thengai Sevai.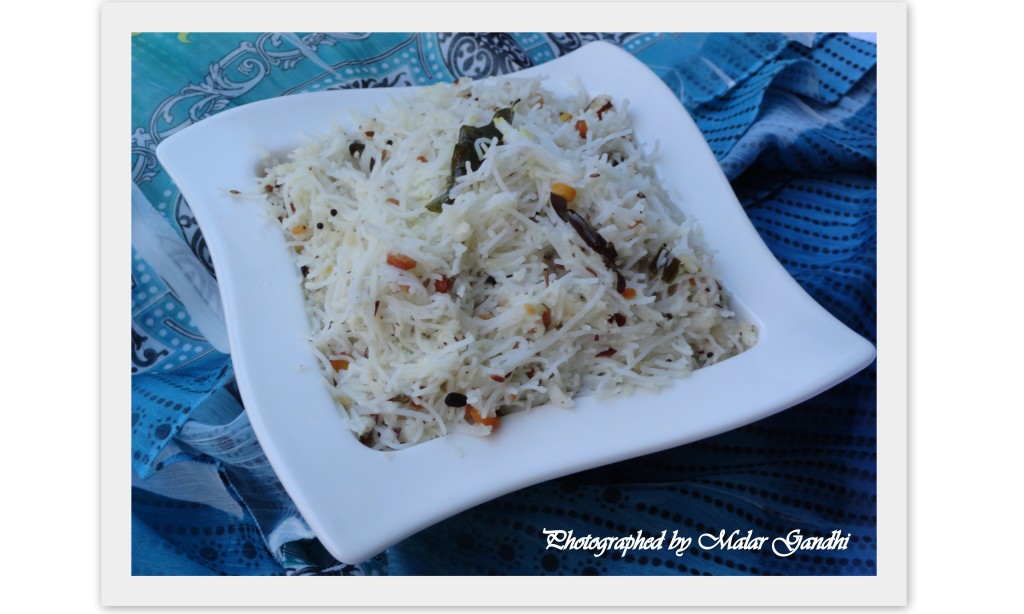 Ingredients
1 cup rice noodles, cooked
1/2 cup grated coconut
1 tsp mustard seeds
1/2 tsp cumin seeds
2 tsp chana dal
2 tsp urad dal
a pinch of asafoetida
3 green chilies
1″ ginger grated
few curry leaves
2 Tsp sesame oil
Method
Cook the rice noodles as per the directions and wash and rinse thoroughly. Chop them down into tiny bits and hold them in colander.
Temper the spices in a usual way and add grated coconut to it. Mix this with the noodles and set aside for a while.
Heat them in a microwave for a quick minute before serving. Hope you all will like it.