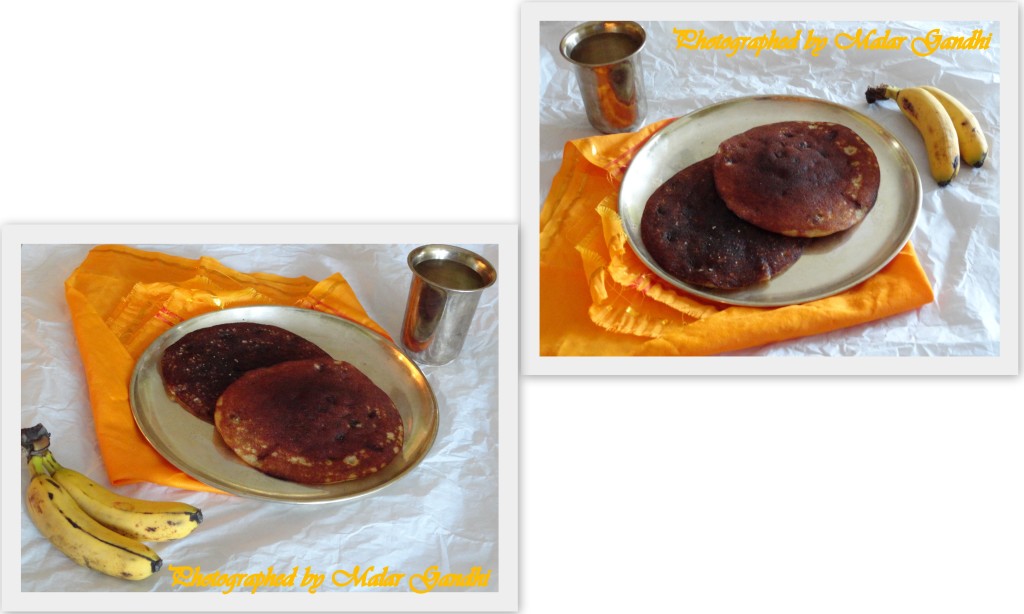 This blog has become a good friend that you always take for granted and postpone to call!! Because, you know…it would consume at least an hour to catch up on! And, its pretty hard to make that hour in between your well-packed schedule of gazing the stars and watching the stupid movie in between commercials for upteenth time.

How awkward, right! Anyway, if that friend were to be on Face Book she/he would have instantly figured the reason for my sudden time constrain! I have been leading a nomad kind of life for the past two and half years! And, now…moved to Oak Ridge, North Carolina. Yep, finally got a place to call home.

Ingredients
1 cup of thick dosa batter (not sour)
2 small bananas
1/2 cup heavy jaggery syrup
3-5 cardamom, crushed
1″ dry ginger powder
2-4 tsp ghee
Method
Mix all the above mentioned ingredients, except ghee. Whisk it into a running consistency batter. You could leave the bananas bit chunky…its up to you. Heat up a griddle, smear ghee and make a thin or thick dosas and wait till they are done. Enjoy.