If you have been following the Fan Page on FaceBook, you would be very well informed of the fact that I am right now obsessed with Poem Blog. It is as much a mood thing as it is also a time thing. Its easy to update…everything is like a key away. Click, Type, Post…that's it. With a lil toddler around (read it as…"all the time"), it's getting tough to manage a photo shoot of food pictures! Otherwise, I am still committed to cooking and experimenting new dishes almost everyday.

And the good news is…my house plays a host to new flavors from my own garden's fresh produce.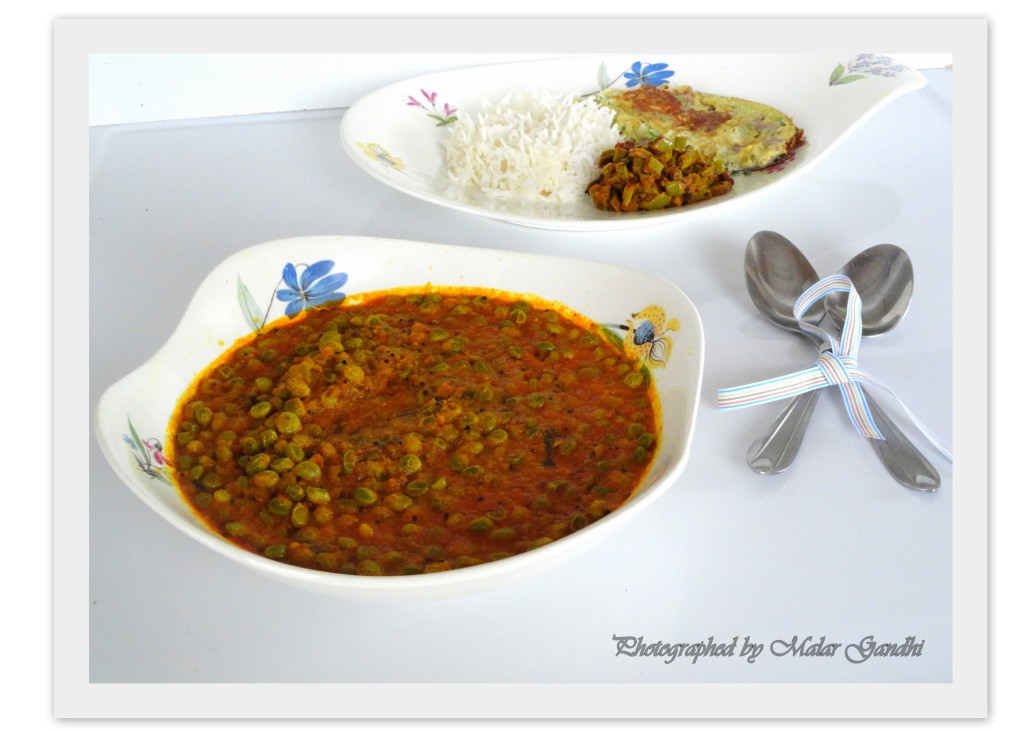 Ingredients
1  1/2 cup fresh thuvar (I used frozen)
1 large onion, chopped
1 tsp ginger-garlic paste
2 tomatoes, puree
salt
1/4 turmeric powder
1 tsp chili powder
1 tsp coriander powder
2 Tsp oil
1/4 mustard seeds
1 pinch asafoetida
few curry leaves
Method
In a wide wok, heat oil and add the tempering spices, followed by onions, ginger garlic paste. Fry real good or until the raw aroma leaves the pan.
Now, add tomatoes and tuvar lilva to it. Cover and cook briefly. Further add salt and all the powdered spices to it. Add two cups of water and continue cooking.
Once the legumes are tender, remove from heat and serve to go with your meals. It should pair well with steamed rice and pulkah rotis. Enjoy.