There are days…when I want to finish up cooking damn too-quick and wind up in front of the TV! I rush-up for everything…procure, process, cook and clean. And I brag about how gifted I am spinning the spatula n fixing a meal in no time.

The actual secret lies in the cooking techniques that I adhere to! Something very simple yet it brings forth a fabulous dish to the table. Stir-frying it is! Its the best method to retain the original flavor of the vegetable. I keep them simple with mild tempering and brief cooking; thereby little bit undercooked! In this way they are tad crunchy; thorough cooking fresh vegetable doesn't allow the flavor to shine up!
Besides, sauteing American vegetables in my own-style gives me a sense of accomplishment.

Ingredients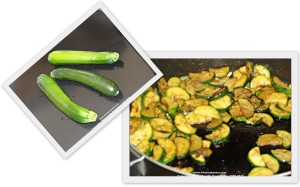 1-2 zucchini, halved
1 Tsp soy sauce
pinch of brown sugar
1 garlic clove, minced
2 tsp fresh pepper powder
2 tsp olive oil
1/4 cumin seeds(optional)
Method
In a wide wok, heat oil and throw in the cumin seeds and garlic. Followed by zucchini, soy sauce, sugar and 1 tsp of pepper powder. Cover and cook for a minute or two and take it over high heat  stir-frying until the moisture is all sucked up. Now, finish with another tsp of pepper powder and remove from heat. There you go, its warm enough to serve as a side dish for your main course.