Also Known As Asparagus Poriyal, Asparagus Varuval. Asparagus Vepudu. Asparagus Subzi. Asparagus Kura.
For a fun-filled weekend, people go to theme parks and holiday resorts! To me, the happiness gets complete only  when I shop at ethnic stores! My new found activity is to hit the farmer's market on Saturdays! I get bit frustrated when it snows out here heavily, preventing me from gazing around!! However, I make pretty good excuse to pay a visit to the Mexican stalls!
And, that's how I got this Asparagus shoots pulled fresh from the yard…and that too for a great deal. I just couldn't wait to try them in Indian way, all spiced up! This plan was going on for many years. Anyway…most of the time, I end up sampling n relishing it, before making any clicks!! Today, I practiced some good resistance and there you go…a wonderful recipe for you all.

Ingredients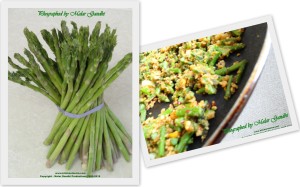 1 bunch asparagus
5 garlic pods, crushed
3-5 dry red chilies, flakes
1 fistful peanuts, grated
salt to taste
1/4 tsp turmeric
1/4 tsp mustard seeds
1/4 tsp cumin seeds
few tsp oil
Method
Wash and clean the asparagus shoots, trim the blunt ends. Then chop them down into bite-size pieces.
Heat oil in a wide pan. Add the whole spices and followed by the veggies.
Salt them, add the turmeric as well. Cover and cook briefly.
Once they are tender, add the grated nuts, garlic and chilies. Stir-fry over high and remove from heat.