I couldn't arrive at a perfect dish for none of our Indian vegetables these days. No one prepares them with the same sincerity as they show to an exotic item! As a matter of fact…I browse for new recipes all the time! And, finally make my mind for the usuals ( subzi or curry)! But, this time I was so determined and wanna give it a shot…even though our Desi Vegetables are way to expensive here & there is a good chance that I might ruin the dish! Thus, Gawar Phalli Masale Bath was born. I couldn't  call it more than that and it is loosely based on our  Karnataka's Vaangi Bath and Maharatra's Masale Bath. So, here you go…without much adieu "Gawar Phalli Masale Bath".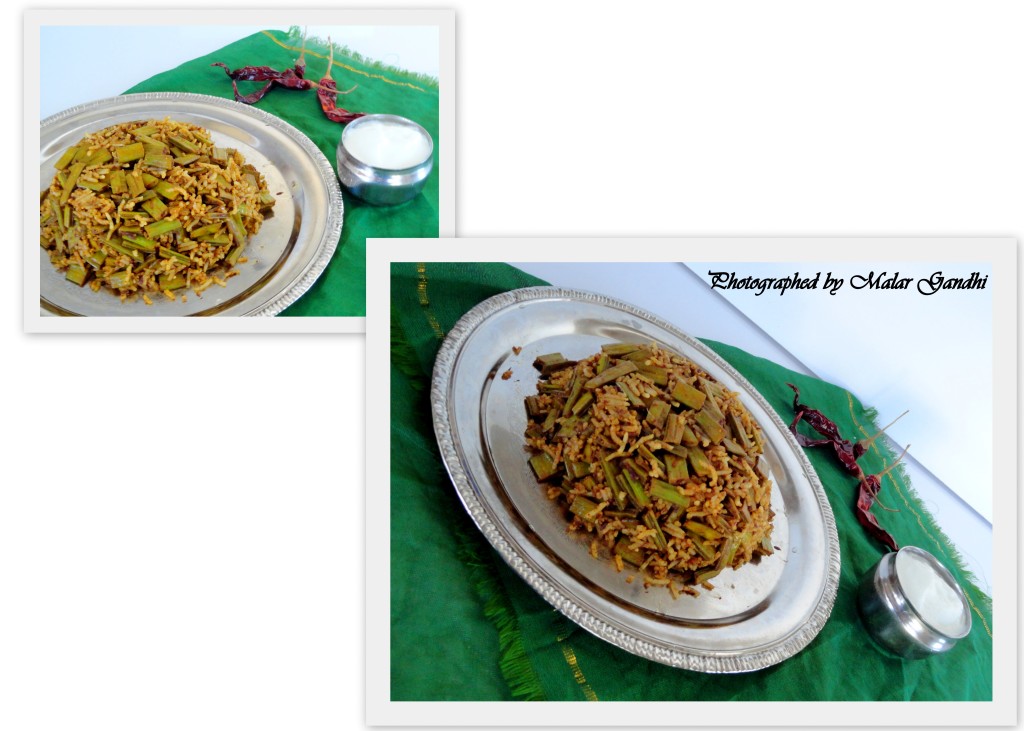 Ingredients
To Be Toasted Each Separately And Powdered Togather:
2 tsp coriander seeds 

2 tsp chana dal 

2 tsp urad dal

5-7 dry red chilies 

1-2 tsp fenugreek seeds

1 tsp whole black peppers

1 cinnamon stick

3 cloves 

1 tsp cumin seeds 

1/4 cup dry coconut grated 

1 tsp black Sesame seeds 

a pinch of asafoetida
For Rice
2 cups cooked rice, basmati

few tsp ghee

salt to taste
For Pan-Frying
1/4 kg cluster beans, chopped

salt

1/4 tsp turmeric powder

1/4 tsp tamarind paste

few tsp ghee
For Seasoning
1 tsp ghee

1/2 tsp mustard seeds

1/2 tsp cumin seeds

1/2 tsp asafoetida 

2-3 dry red chilies

few curry leaves 
Method
Cook rice with enough  salt and ghee. When it is done, spread the rice in a wide tray and fluff the rice with fork. Allow this to cool down to room temperature.

In a wide, heavy bottomed skillet, heat oil. Stir-in chopped vegetable. Followed by add salt, turmeric and tamarind. Fry them till they are tender.

Now add powdered spices too. Let them get fried well too. When the raw smell of the spices is gone and oil shows up on the sides, remove from heat.

Now mix this spicy vegetable with rice. Let the rice get well coated with it.

In a separate pan, heat ghee. Add sesonning ingredeients one by one. Wait till they pop and splutter.

Now run this seasoning over the rice. Mix them once again thoroughly. 

Serve warm as a main dish for lunch. Enjoy!