I am hoping against the hopes that I will be able to pull this off! Food photography and much more. Well, not exactly my genre, okay! I am overwhelmed. I have too many commitments in my life these days…thus,  'pausing a moment to smell the flowers' needs a plan and to be on my 'To Do List'!!
Yeah, you see…am getting smart at making the 'To Do Lists' during the better part of the day and agonize over it efficiently later! Mostly, I juggle many activities in minimal time and achieve pride and contentment! For example…talk to a friend, while cooking, listen to music while cleaning, work offline on the computer and do browse in the mobile!
Thus, after multitasking throughout the day…there would be enough free time, you see! That's when…I go bananas (why should it be always 'Nuts'). Like, should I browse the usual non-sence or should I read a crappy book? Should I take a nap or should I walk around the block?? Should I eat or should I eat-eat???

 Glad, to note I do have some priorities straight.

Well…if you are eager about this recipe, its something that I fix when flu season is around. For some reason, I feel the comfort from it. So, there you go…check it out leisurely.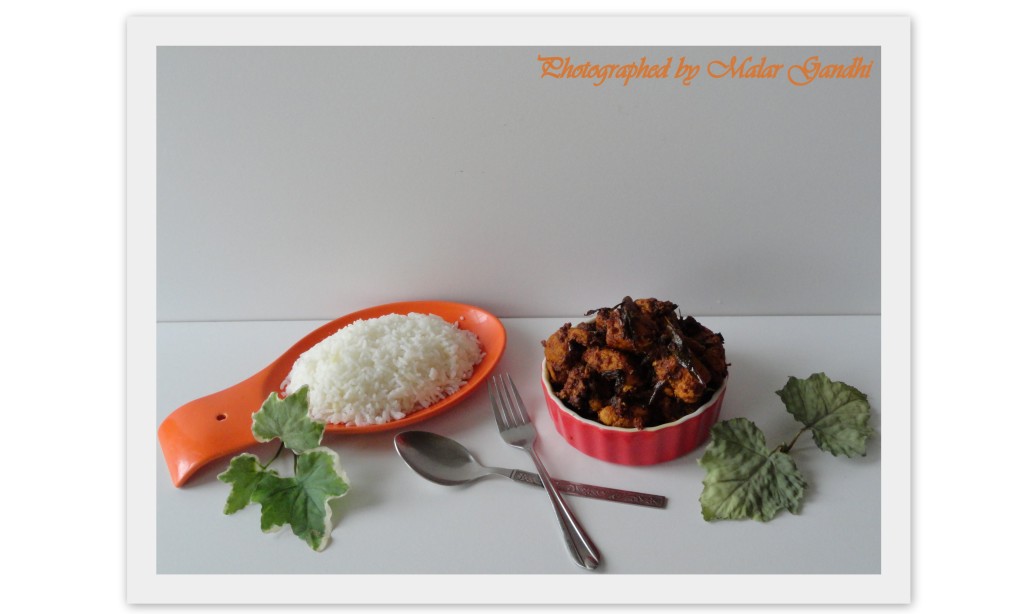 Ingredients
1 cup country chicken, breast – cubes
5 cloves garlic
2″ ginger, grated
salt
1/2 tsp turmeric
1/2 tsp chili powder
1 tsp pepper powder
few curry leaves
1 tsp cumin seeds
pinch of garam masala
oil 2-4 Tsp
Method
In a wide wok, heat oil. Add cumin seeds, garam masala and curry leaves. Once it stops the frizzy noise. Add ginger and garlic. Then, add chicken cubes and powdered spices. Fry real good, once the meat turns opaque…add water. Cover and cook for at least 20-30 mnutes or untill the meat gets tender. Now, serve this to go with plain steamed rice or roti.