On the other day, out of the blue…I felt like making Kerala Style Mutta Ishtu. Memories surged like tides on a full moon night. Once I got back home, I first looked up for pairing main dish. When there was sufficient appam batter…the process for stew began. All I could feel was will this beat the cold gray weather outside?! I made sure…that everything came out of the pan should be pipping hot! To my expectation, AK too got back home early. He even joked that the aroma was felt miles away.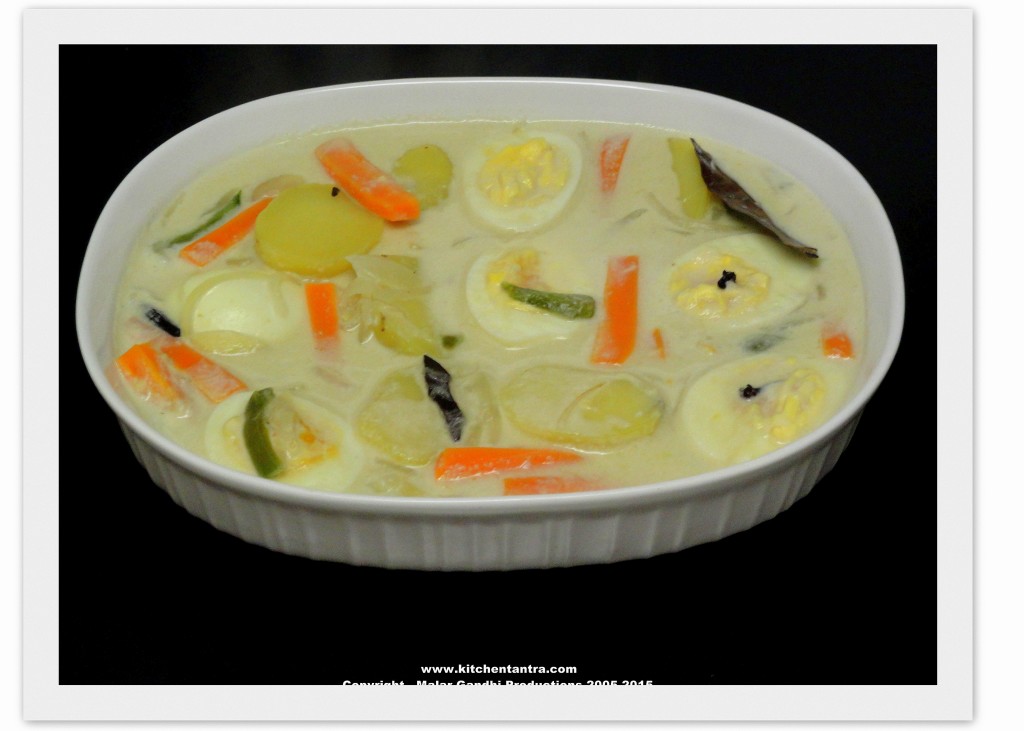 Ingredients
5-7 soft boiled eggs, halved
1-2 potato – cut into wedges
1 small carrot – sliced lengthwise
1/2 coconut, milk
2-3 green chilies, slitted
1″ ginger, grated
1 large white onion, sliced
salt to taste
1 bay leaf
1 cinnamon stick
3 cloves
3 cardamom, crushed
few curry leaves
1 tsp coconut oil
cilantro leaves to garnish
Method:
In a wide pan, heat oil. Throw in the spices, followed by chilies, ginger, onions and potatoes.
Fry real good. Further add salt, and coconut milk. Cover and cook over medium heat for at least 20 minutes.
Once the potato gets tender, add carrot and eggs, simmer and cook briefly.
Serve to go with your appams, iddiyappams or dosas.