Also Known As: Ghee Biscuits, Nei Biscuit, Butter cookies, Salt Biscuits, Indian Bakery Cookies.
Never been a fan of cookies (biscuits) or at least the one that I make! Of course, from time to time, am bound to make some! I keep them simple and edible.
Cookies are super-tempting when its store-bought…where the butter and bleached flour get into the dish far from our sight! Guess, when we don't witness few things…life will be lot easier! Try and prepare those gorgeous cookies yourself…the amount of fats and carbs scares the hell out of me.

I generally restrict myself from blog-hopping too, when I am vulnerable.
Its bit challenging to remain glitters-free food-blogger and cook something too basic! But, can't help it, few things are highly ingrained in the system. So, here is my 'Not so fancy – Ghee Biscuits'…curb your cravings.

Ingredients: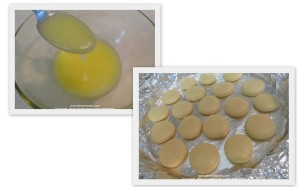 1 cup all purpose flour
1/4 cup ghee
pinch of salt
1/4 sugar
Method:
Mix salt, sugar and ghee together. Allow the sugar to completely dissolve. If you use confectioner's sugar its gonna be easy. Then add the flour and bring them to smooth dough.
Divide them into equal parts, shape them up into cookies and spread the on butter sheets.
Bake for 20 minutes over 350 degree Fahrenheit. Remove from heat and allow them to cool on the racks.
Store them in an air tight containers and serve up as tea time snacks.