Also Known As: Mango Pudding. Mango Mousee.
Alrighty…I used to think, Sheerkhand is the best, until recently I came up with Aamkhand! The fresh crushed cream, loaded with mango chunks and finished with almonds…sort of like a molten mango lava! Only this in a sizable cup…makes it simply irresistible. If you are a mango-freak like me, then…I am positive you will love this dish.

Ingredients: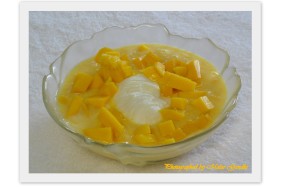 Fresh Yogurts 2 cups
Sweetened condensed milk 1 cup
Mango chunks, 1 cup (the fresh ones)
No Sugar – condensed milk has enough!
Nuts n saffron to garnish
Method:
Hang the yogurts in a cheese cloth, for a pretty looooong time. I guess, I did for at least 5 hours.
Now, I mixed this hung yogurt (called Chukka in Hindi) with mango pulp and condensed milk. If you like…you can actually beat the solid yogurt…but I prefer mine to be bit chunky (no, no the actual reason could be 'I am lazy' ).
Then, chill them and garnish with nuts and nutmeg powder. That's it, dig in.