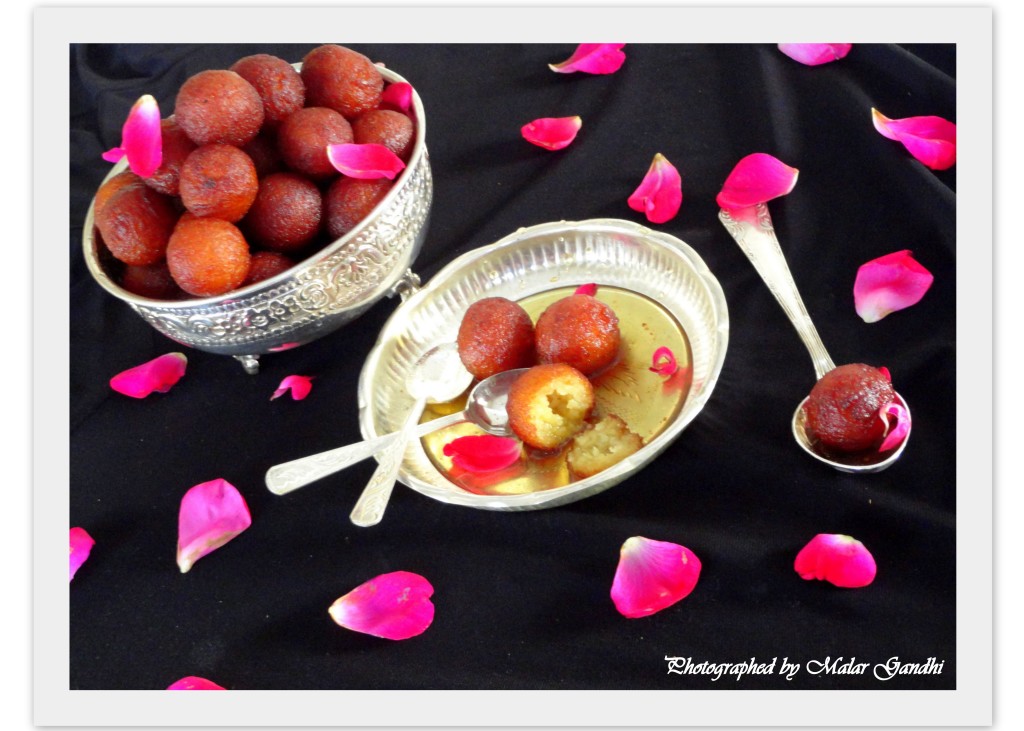 Cooking with Rose Petals dates back to centuries. The simplest way to incorporate it in cooking is to use rose water or sun-dried rose petals. However, using fresh roses right from your own garden makes it extravagant.

I love to steep the fresh scent of these roses in my desserts. To be precise…milk based desserts will be a right a choice. To prepare a rose flavored sugar syrup…bring the water to boiling and add sugar plus rose petals to it. Lower the heat and simmer for twenty minutes, perfect-aromatic syrup is ready in minutes. So, this is the basic for today's recipe. You can always enrich the Jamun's with ground rose petals or Gulkand.

Unfurl your own imagination…I am positive, it would turn out great.

Ingredients
1 cup khoya (solid milk)
2 cups sugar syrup
rose water
1 cup real rose petals
ghee for deep frying
Method
Prepare the khoya dough into smooth mass. Then, divide them into equal parts and shape them up into medium sized jamuns. (later it bulges to 2-3 fold when immersed in sugar syrup).
Fry these in medium hot ghee until golden to reddish brown. Remove and leave it on the kitchen towel for a while.
Add rose petals to the sugar syrup and warm it up a little. Now, add these fried jamuns to it and wait till it soaks completely.
Serve chilled or warm as a dessert. Enjoy.