Also Known As Paper Dosa. Paper Roast. Ghee Roast. Hotel Style/ Restaurant Style Ghee Roast.
One of the famous breakfast item in my home state Tamil Nadu is our  Extra Thin Paper Roast. Its nothing but a very thin 'Dosa'. Sometimes, I feel its almost like an edible blade (that thin, yes) however, one which crumbles when we touch it.

The recipe is bit challenging to fix at home (for newbies) because it needs little practice.
Tips and Pointers for Perfect Dosa
Number 1: An iron skillet (heavy and large) or at least an extra-wide non-stick griddle to make these crepes! The biggest issue is not the griddle itself but to have a wide-burner or heating surface for the very purpose!  Maybe that is why, back home in India…many prefer to have paper roast in the restaurants, who sincerely cater our needs. Of course the whole idea of dinning out becomes very mesmerizing, when we order these paper roasts.

Number 2:  One has to keep the griddle super hot, and move their hands pretty fast to make thin-thin dosas…in order to achieve perfection, sometimes…one will have to repeat it least 2-3 times to bring a good one. Hmmm, if you are like me…eat less than a half a dosa, its pretty hard to practice. So, invite many people to share your dinner.

Number 3: The quality of the batter is also crucial, besides the right proportions of ingredients and wet-grinding methods involved…its also the weather that plays a role in it. If the conditions are poor for the fermentation process, the batter is useless!
Number 4. On the other hand, if the batter is too watery or too chunky, an experienced cook knows how to manipulate it. For example: if the batter is in running consistency, people generally add more rice flour, or roasted semolina etc. If it is in dropping consistency…its easy to volumize it with buttermilk or water.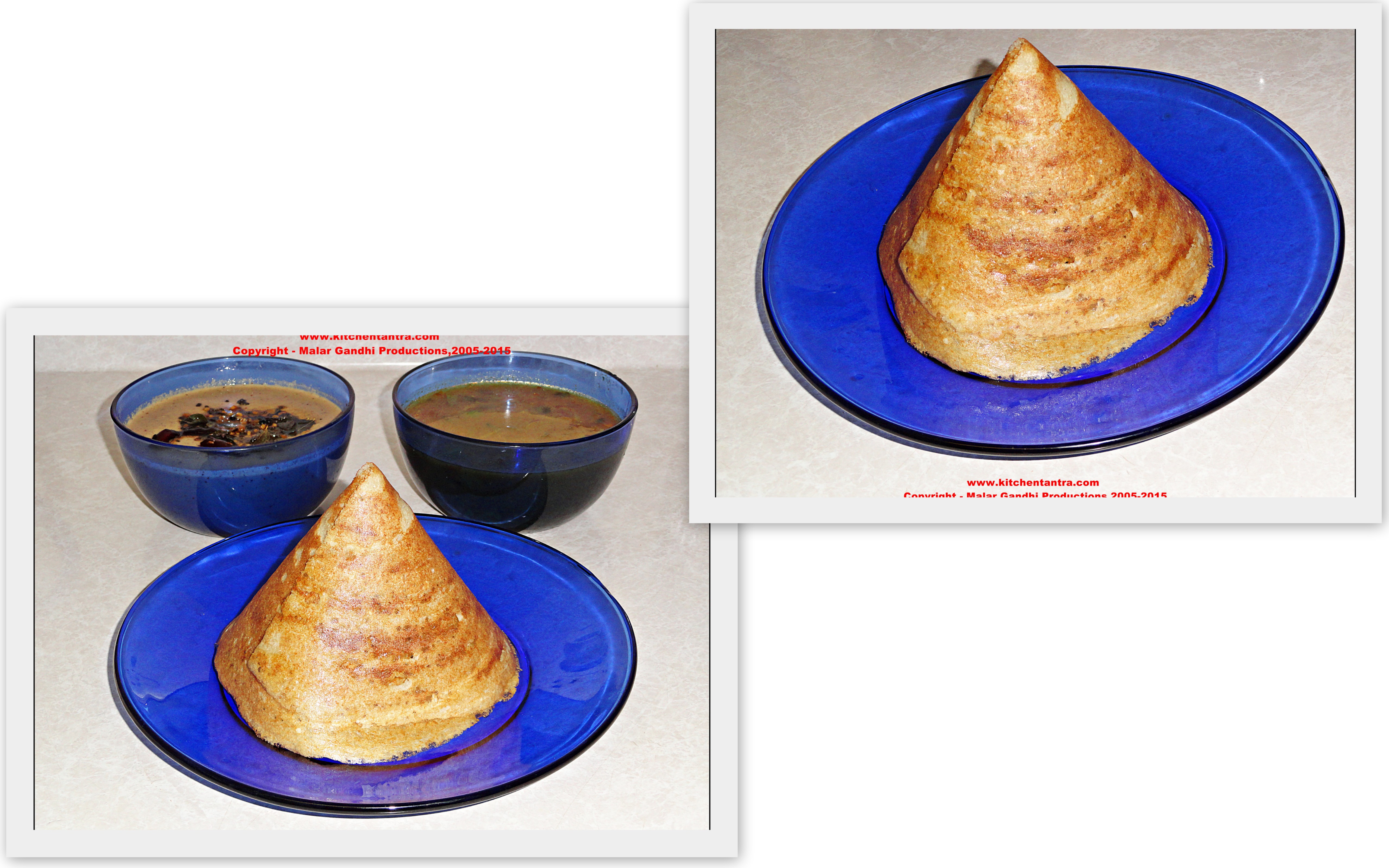 Ingredients:
Par-boiled Rice 1 cup
Raw rice 1 cup
Urad dal 1/2 cup
Salt
Baking soda 1/2 spoon
Fenugreek seeds 1-2 spoons
Secret Ingredients:(optional)
Thoor dal 1 fistful (gives the deep red tint to the Dosa)
Sesame oil 4-6 spoons
Rice flakes – 1 fistful (gives crispness to Dosa)
Cooked Rice – little (if you miss, rice flakes…use cooked rice)
Castor oil – 1/4  spoon (if you like it)
Method:
Soak par-boiled rice, raw rice, urad dal and fenugreek seeds together…for about 5-7 hours. In case if you decide to use those secret ingredients, I mentioned above…better soak them too.
Wet grind this to thick paste. Now add salt, sesame oil, baking soda to this. Its better to dissolve salt and baking soda in 1/2 cup of warm water, and then add it to the batter…for uniform distribution.
Allow this to ferment for at least 7 hours. Always remember, when they ferment…it increase in volume (3 fold). So try not to cover them or better to have plenty of room in your storage vessel. When it fermented good enough…its ready to make crepe/dosa.
Take a wide skillet/tawa. Maintain it over medium heat. When it is hot enough…spray little salt and wipe them off completely. It helps in someway to make the dosa crispier. Then…spray oil. Let it come to proper heat.
Now just take a ladle full of batter (choose a round bottomed stainless steal ladle for this purpose). Starting from the center and make a thin crepe, as much as possible (if you find it hard…no worries, it comes through experience. keep trying.
Now…while the batter is still wet…try to flatten the crepes with an wooden spatula (greased with oil) to make the crepes very thin like a paper. Now cover the skillet with lid. Let the stove be still on medium heat.
Just after few minutes…remove the lid, turn the burner to high heat, run a spoon full of oil/ghee at the edges and in circles. This high heat will change the light color dosa to get deep red color, running oil at this stage will also increase the crispness.
Next comes the most amazing step. Do not try to roll or fold the dosa immediately. Because, now the dosa will be brittle. Just turn the dosa to the other side, Sprinkle a little water(at the red side of crepe) and again turn it back. Now, you will hear a sizzling sound from the water…then, slowly roll it. Did you get this! The water you sprinkled helps in rolling the dosa without actually breaking it.
To make a cone dosa, slit half the way through and roll them up.
Serve steaming hot along with sambar and chutneys.