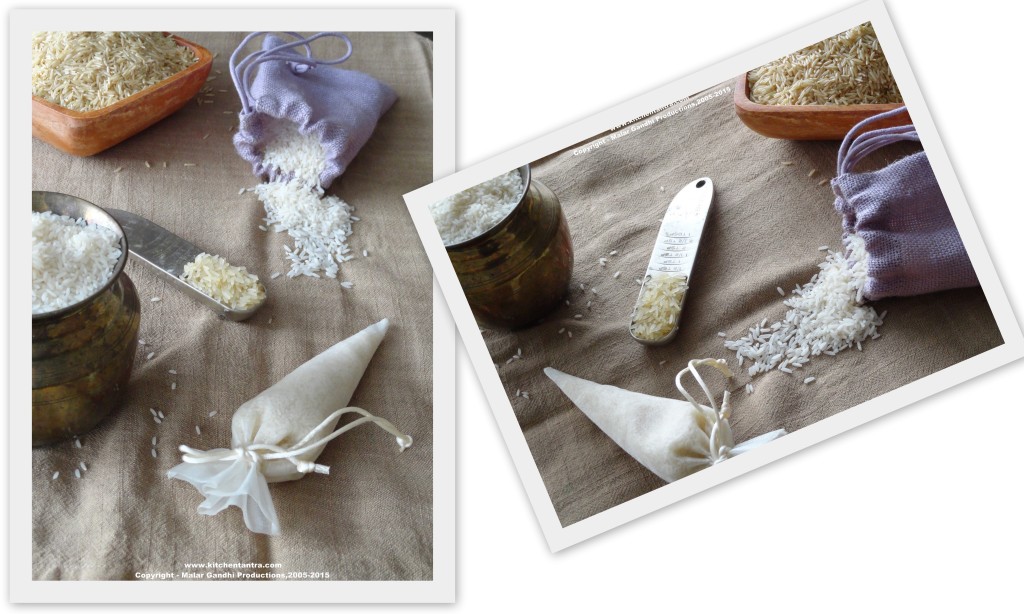 Boiling rice to perfection, how simple is that! It could be very challenging even for an experienced cook, sometimes. There are more than hundreds of variety in rice. Of course each type of rice demands a different approach in cleaning and steaming! And again many recipes calls for a stiff, well-separated rice and for some highly mushy rice. So, its all depends on what you are planning to have!
Anyway…but most likely many of us use white raw rice. Which is already polished and clean enough. All we have to do is boil to the point of consumption:) The ratio one needs to bear in mind, one cup of rice two cups of water (1:2) If it is Basmati or long grain rice, the ratio differs. its (1:1 1/2 ), for one cup of rice, one and a half cup of water.
Note: Rice swells three times of its original volume and make sure you use a sturdy, large container.
Stove Top Method: In a wide crock pot, heat water. Add rice. Cover with lid, preferably a glass lid. (Or at least until you get some experience in cooking). Set the temperature in low-medium heat. Approximately 20 minutes.
Note Do not overwhelmingly set the temperature on high heat…thinking that you will prepare it fast! Though it has absorbed most of the water, the rice will remain undercooked and the bottom of the pan, you will notice charred rice. And its double the load of cleaning process.  Zen moment of patience, please.
Microwave Method: Well…you think its too hard to stand before the stove. Here is the easy-easy microwave method.
You add 3 cups of water for every 1 cup of rice. Ratio is  1:3. Same rule, rice swells three times of its original volume. So, make sure that your microwavable rice-cooker is big enough.
Set 15 minutes on high for 3/4 cup of rice.
Set 18 minutes on high for 1 cup of rice.
Set 21 minutes on high for 1 and 1/2 cup of rice.
Set 24 minutes for 2 cups of rice.
Pressure Cooker: Even better. Same thumb rule. 1:2 ratio and rice swells three times of it original volume.
Note: Use proper whistle and a casket for the pressure cooker, otherwise your whole plan of cooking goes for a toss!
Set the stove on medium heat, wait until three whistles (for raw rice) and just one whistle sound (for Basmati rice). Remove from heat, otherwise the heat from the electric stove continues the cooking process.
Note: Do not be in a hurry and try to remove the whistle. Allow this to stand for a while before you take a peek. If you have ever witnessed an exploding pressure cooker you wouldn't dare.
Left Over Rice: Rice should not be left without lid for more few minutes, it may go extremely dry (unpalatable). Additionally you can refrigerate the left over rice. For consumption, again sprinkle 1/4 cup of eater and reheat in a microwave for 4-5 minutes.
Hope you will enjoy cooking rice. And one last thing,