"Desi" – our local lingo to refer people from the Indian subcontinent in America. The term 'desi' comes from a Hindi word, meaning native (someone or something belongs to the land)…in this case, Indians, Nepalese, Pakistanis, Bangladeshis, Sri Lankan, Singaporean and Malasian Indians.
The growing Indian-American population has given rise to the ready to eat food market industry. In the recent years, there are varieties of desi brands in the market. Good news,  naan and ready to eat palak paneer in found in Walmart, these days.

If you make a special trip to the Indian grocery store in America, you will be lucky enough to spot some of your favorite childhood meals (ready to cook / ready to eat). There were times, when many Indians carried everything from India except their kitchen sinks!!! That's not the case anymore. You could certainly travel light.

Most Indian Students Association provides us with instructions on their websites giving detailed checklist on various issues which may be quite handy for students. First time visitors, may have gone through this check list several times…their paper works, winter cloths, medications, travel kit and other essentials. So, am gonna share a bit of wisdom to the frequent travelers (like me) who visit India at least once every year. And for those who are wondering….what to bring from India and what not to pack! Whether to pack or skip the necessary items (and again what is the necessary items?) is the big dilemma every NRI faces while on his/her trip to homeland!
For most of my life I lived away from my home and am happy to announce the world that I am a super-light traveler…I hardly carry anything from my home! I explore the locality, shop local and acclimatize damn too quick.  And that is something am proud about myself.

Well, looks like am kind of used to this suitcase lifestyle, after all!!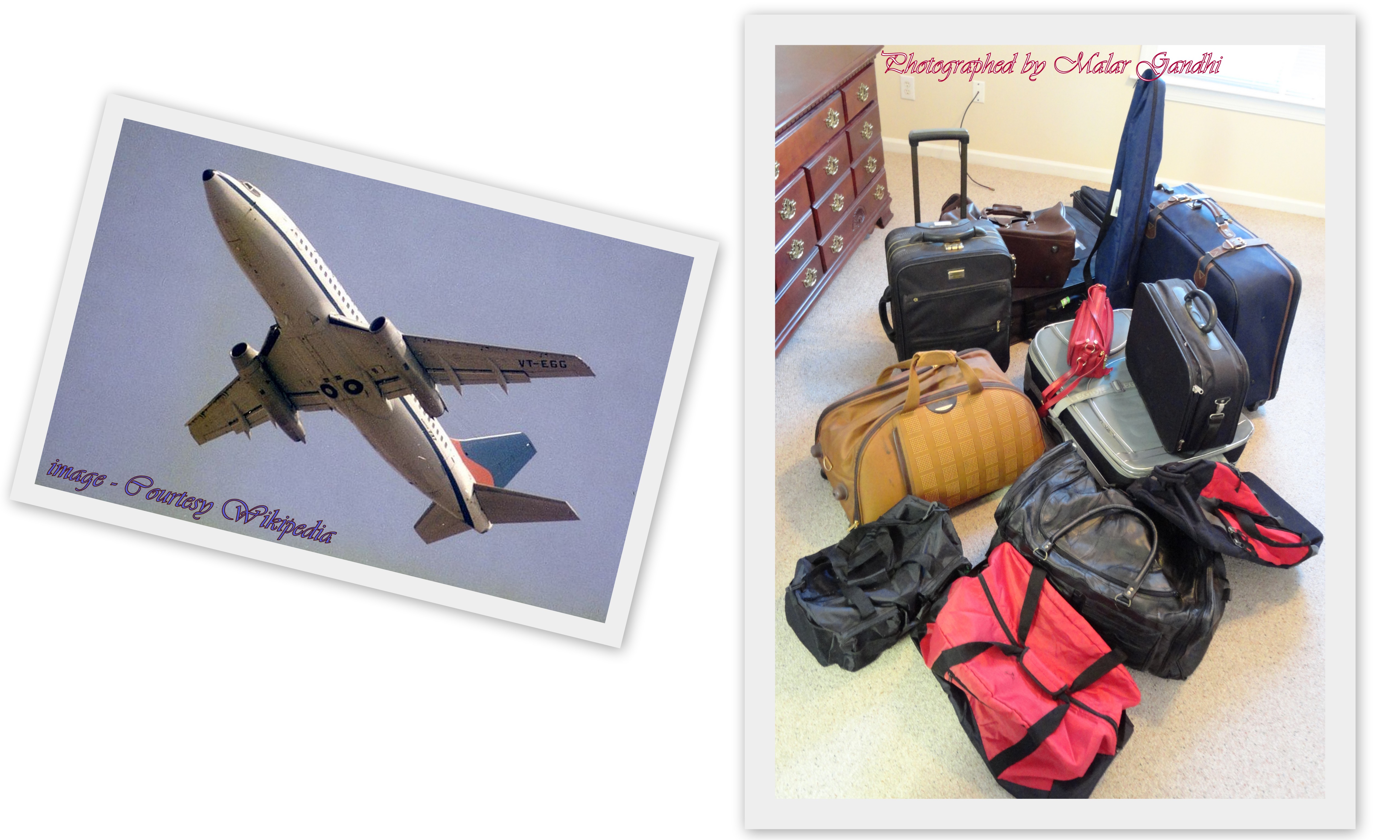 Anyway…but, over the years I have come to appreciate the home-touch and started craving for my motherland goods…especially kitchen essentials and ethnic ingredients. The rarity makes it super-appealing! If you are living in a remote southern regions of America (or suburbs and country side of America), you could relate to what I mean!

I live in the middle of where!!! Yeah…deep in the woods…where, I have to drive up to 20 miles to see an another human being.

And it takes several miles of drive to reach the nearby drug-store plus market!!

  And shopping in an Indian grocery store is simply out of the question!!! All I could do is, mail-order it! Sometimes, I force myself to make a special trip to the nearby big city like Memphis (while I lived in Mississippi, approximately 80 miles from my place) and now to Raleigh, North Carolina (approximately 120 miles from my place) for Indian goodies!! Maybe, that's why I shop like a maniac and  stock it up! Otherwise, am inclined towards other ethnic markets from my locality…and can pretty much survive with Mexican or Vietnamese market around. Its nice to mishmash Indian cooking with alien stuff and swabbing the ingredients comes of naturally.

Alright, coming back to the point…today my intention is to make a neat check list for the Indian immigrants (a.k.a NRI). Since its a food blog, let me concentrate on kitchen and cooking checklist from my own experience.

                                                      Desi Checklist
Item

Quantity

Country

Description

Pressure Cooker

1 (with extra gasket and valve)

India

Looks like I am the only Indian who absolutely hate pressure cooker! I make use of microwave for cooking rice to boiling potatoes. I happen to love stove-top cooking for lentils and meat. If you are like me, shun this heavy weight item.

Crockery set

U.S

Some of the items should be bought local to use local is my idea. The round bottomed pots and kadais are so ill-suited for this electric stoves, here.

Please rethink before making an excess baggage!

Table Top – Dinner wares.

U.S

Unless you are gourmet cook, who wants a deep ethnic touch, you can manage with the most affordable collection from here.

Knives & Chopping Board.

U.S

Are you kidding me, I bet you want to bring your maid too so badly! Its available here


Serving Plates

1 (?)

India

Okay, for the sentimental reason, you can bring just one for yourself. Otherwise most of the plates here are microwavable and you will thank me for shunning metal plates…as it won't be useful in your kitchen anymore.

Bowls, cups, tumblers, forks, spoons.

U.S

These are lot cheaper here, you can also shop them as you please.

Indian Spices

1 year supply

India

Now I am talking, if you are gonna arrive at San Francisco, New Jersey, Chicago, (or any other big city). You may think this quantity is crazy…as you can shop in any Indian grocery stores . But, if you are going to live in the middle of nowhere, then its better to pack the whole bunch of essentials to your pantry.

Instant Foods

3-4 months supply

India

Do not stuff everything that you see, pack a little and use them religiously on special occasions. Many may crave for pickles, podis and fryums.

Ready to cook items

U.S.

It may be very tempting to bring from India, but there is no big price difference…you can very well order them online. Trust me, you will not like them as much as you wanted!

Cook Books

1 or 2

India

Well, if your Mommy has written it down for you, some of the best secret recipes…no its and buts, pack them up and bring it on! If you have these store-bought cookbooks for the regular cooking…why?  Come on, you can browse any recipe online. In my opinion most of the websites and food bloggers have contributed enough to tantalize your taste buds.

Rice & Wheat-flour

U.S.

A big 'No', 'No' to this items. Relax…guys, you can very well manage with the local rice selections and wheat flour. Over the time, you will start to appreciate the flavor.

Lentils

U.S

You can mail-order it or buy it in an Indian grocery store, a six months supply will be perfect. No worries.