Cleaning and cutting fish could be little bit of fishy until you master the technique. If you ever got a live fish, and still wanna make some progress in doing the mean job…here it is some of the pointers that may help you. If nothing works…no worries…persuade your butcher to do the job:)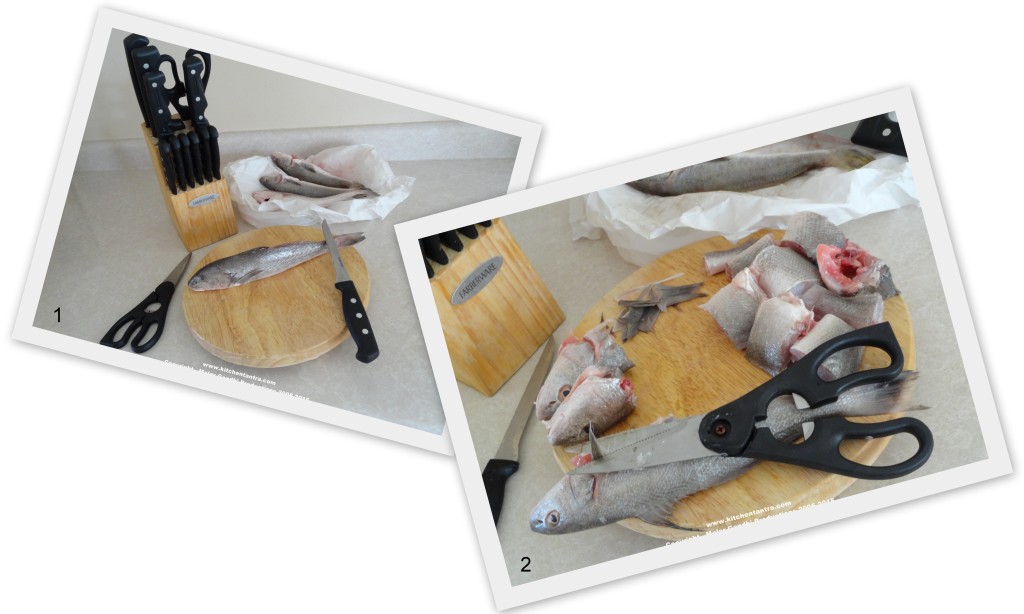 1. Fish is a very slippery item to clean and scale. So, please use caution while handling it.
2. Choose a sturdy wooden board for the work.
3. All you need is a filing/pairing knife and a scissor, like shown in the picture.
4. First and foremost, scale down the fish…you could actually use the back of the knife to do the job.
5. Next, slit open the gut (you will figure it out…down the head region) remove the gills and gut plus its contents. And throw it away.
6. Trim the fins, all of them including tail fins. And if you like to fry the whole fish…you could retain them…I have no objection:) Some of the dorsal fins could be very prickly, handle with care.
7. Cut the head of the fish and slice the remaining portion in desired size fillets.
I like Indian style of cooking, so I generally retain the head, skin and bone for the cooking. And if you want the boneless,, skinless fillets..trim the sides of the fish and slide through your fish under the flesh and above the mid bone for clean fillets. Piece of cake isn't