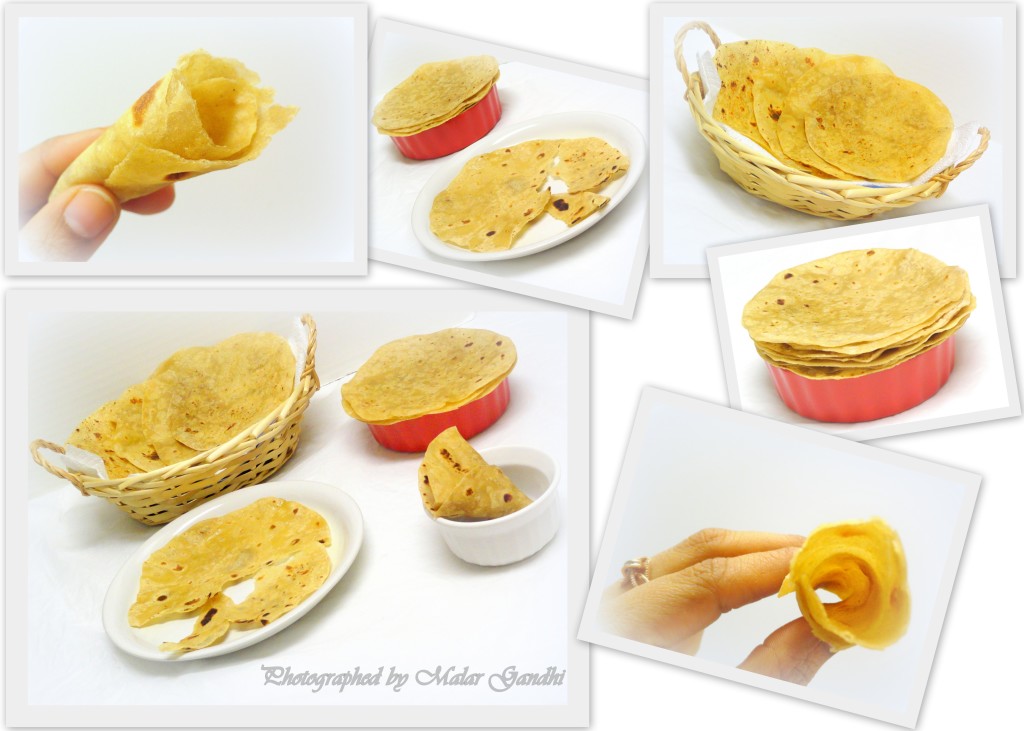 "There are people in the world so hungry, that God cannot appear to them except in the form of bread." – Mahatma Gandhi
The mission today is driven by my desire to make a Perfect flaky, yet Super-soft, Butter free Chappathis. Yes.

  Once I started nurturing the idea, I slowly got obsessed with it. Why is that…I want to make a perfect oil-free chappathi? Lets just say…I get a little high with recipe that I've made a zillion times…that, now I want to experiment the same with different strategies. Well, you get the picture, right! However…you can absolutely add more butter, oil, ghee…what not! But, I am kind of going to play with the dough. Hang on…
1. Use sifted flour.
2. Use generous portion of warm water or warm milk for kneading
3. Approximately 2 cups of flour will need at least  3/4th of a cup warm liquid.
4. Knead the dough for several minutes to achieve a smooth finish (absolutely free from cracks and crevices). The more you knead…the more soft the chappathis are.
5. Add a spoon of ghee or oil to bring the smooth finish – a final touch. Never do excess…or unless you want it that way.
6. Cover the dough with damp cloth to prevent it from drying out. Refrigeration is also just fine.
7.  Divide them into equal parts and roll them into thin flat breads. Use dry flour to work through. You can also apply little oil for a change. Maintain the uniform thickness of these rotis.
8. The more number of times…you fold through and roll it again and again…the more layers you could get! The air trapped inside the dough while rolling will eventually make it super-soft.
Note: Do not leave these flat breads bare open on your kitchen counter, until you cook them. Use paper towels to cover them up. To do stockpile them one over the other…it could get messy and you will have to do it all over again!
9. Heat the griddle before hand over high heat.
Note: If you have already placed your chappathi over a griddle that is not hot…Just wait for at least 20-30 seconds, before you try to flip and chisel it! Once the heat is applied, it should be very easy to flip over. All you need is a zen moment of patience.
10. Place the rotis /chappathis over this hot griddle. Toast until you see some brown spots.
11. For a much soft rotis, keep flipping and and tossing often.
Note: If you allow it to stand through one side (to be done) for a long time and then turn over the side…you may end up with a brittle version of chappathi.
12. Remove from the griddle and apply a few drops of ghee (or completely oil-free). Fold them up into desired style and serve up while it is still warm.
Note: I generally do not use any hot-box to store the chappathis. Although it is not a bad idea! For the chappathis that has gone from warm to room temperature ones…I put them in the microwave (directly on the glass plate) for exactly 5 seconds on each side – over high! It turns out awesome.