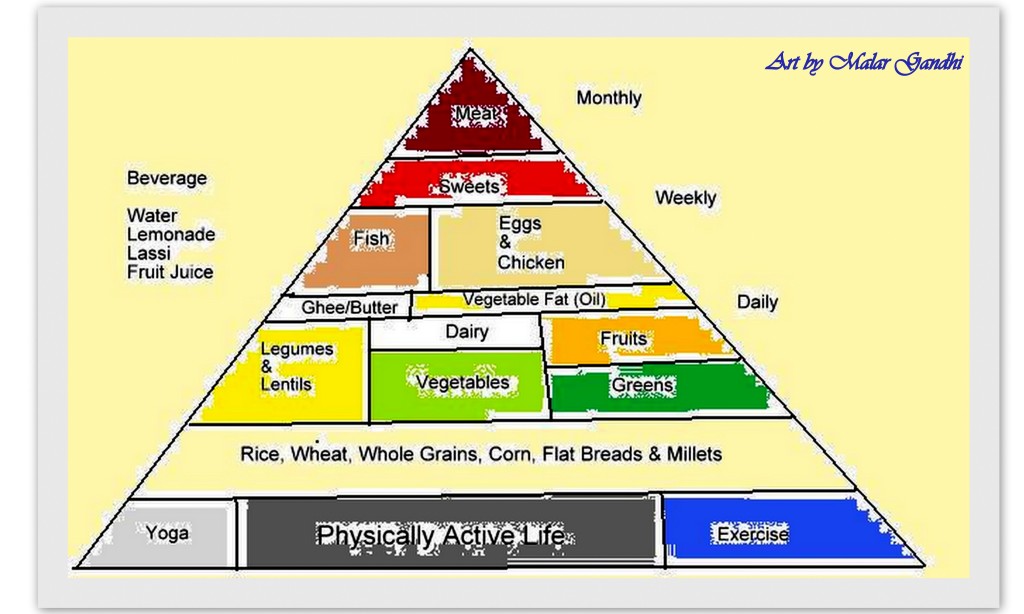 The Indian Food Pyramid is an outline of what we eat each day. The research based plan, developed by our country is not a rigid,  hard to follow rules to shy away! Whereas, this pictorial description gives us a glimpse of a plan for a healthy life style. Well, according to the Indian food pyramid, we can certainly create a healthy Indian diet from a variety of foods.
Dietary Guidelines for Healthy Eating

It looks like, our traditional Indian meals is already in a good shape. The right amount of calories drawn from the whole foods, such as carbohydrates and lentils to maintain a healthy life. So, pay attention to your grandma's ideas and tidbits.
The pyramid emphasis foods from five major food groups. Eat variety of foods to get enough calories. Balance protein, carbohydrate intake and opt for more fiber rich foods. And make room for enough fresh fruits and vegetables. Choosing fresh produce over a frozen or processed goods is always a good thing to do to yourself.
Most people have concerns about their protein intake.  You can choose from a variety of ingredients…poultry, red meat, dry legumes, lentils, dairy foods etc, all provide enough protein.
Well, we should be wise enough to know, when to supplement with fortified foods and when to go on with low-fat diet. Take a good look at your nourishing goods before you commit to a diet. Staying fit can be somewhere in between, being too skinny and over-weight!
Know your serving sizes of the different food groups. For example, remember the portion of the sweets in a wedding platter? Well, that's the right proportion for you to treat yourself occasionally.
Be very practical and do lots of physical activities, even though you eat right and are in good-shape. Control your craving for fried junk foods and sweets. Take a stroll or ride a bike, until you are distracted.
Its always good to cut down your sugar, salt and alcohol intake. And, practice healthy eating habits and be an example to young children and others.
© 2010 Malar Gandhi,  All Rights Reserved. This material may not be published, broadcast, rewritten, or redistributed.