There are few dishes that you have to try. And, there are few dishes that you have to forget! To me…its not the taste, its not even the comfort, a food could provide!  Its all about "my state of mind" that matters for a dish to taste better or yuck. So, if anyone bothers me with new food on a terrible day…its never repeated! Its that simple. This particular dish has a special quality, I suppose. I prepared it on a rather gloomy day…hoping that…it would elevate my spirits! Now…I could really vouch on it! It certainly did. Its a perfect comfort meal to beat the blues! Its quite simple…doesn't have a fancy finish nor does it require any exotic ingredients. So, do check this out.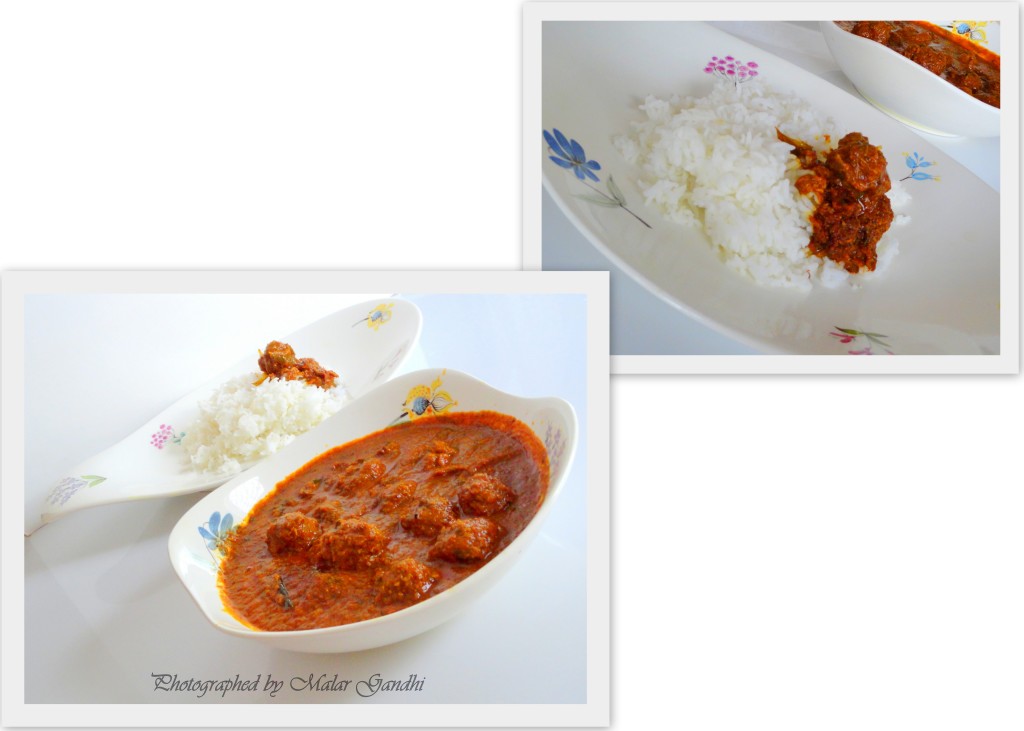 Ingredients
Meat Balls 
1 cup minced meat
1 tsp ginger garlic paste
salt
Curry
1 cup onion paste
1 tsp ginger-garlic paste
1 cup tomato puree
1/4 cup coconut paste
salt
turmeric
1 tsp chili powders
1 tsp coriander powder
1/ 2 tsp garam masala
1/4 cup oil
curry leaves few
Method 
Prepare meat balls mix using the above ingredients and set aside.
Prepare a thick curry using the curry ingredients. Just reserve the coconut paste for later use.
Now, add meat balls to it and cover and cook over medium heat, until tender. Finally add the coconut paste to it and thicken the curry.