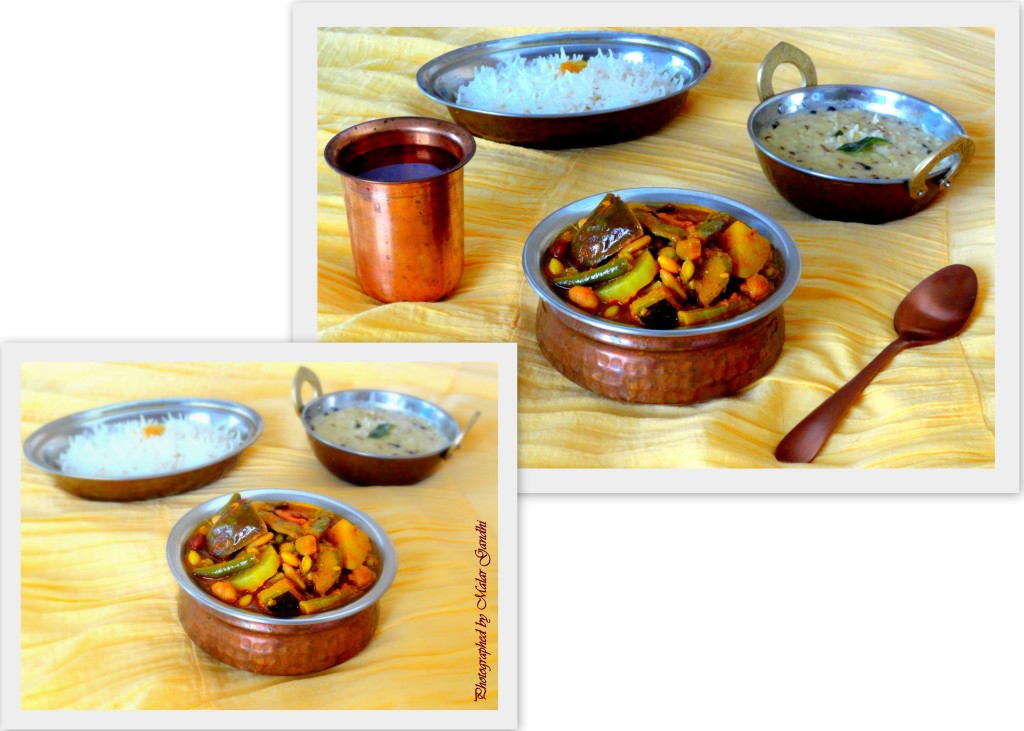 Other Names Kadhamba Kuzhambu. Kadamba Curry. Kaikari Kuzhambu. Kodi-Kai Kuzhambu. Pongal Kuzhambu. Kaikari Mandi. Mixed Vegetable Curry. Navadhanya Curry.
Makar Sankranthi (a.k.a Pongal, Lagori…and many different names all over India)is one of the most important festival celebrated by Hindus. Its a harvest festival dedicated to the Sun God. The four-day festival (according to the Tamil calendar) is usually celebrated from 14 January to 17 January. Day 1 – Poghi  - The ritual cleaning of the house and anointing (with turmeric or sandalwood paste) the new earthen pots begins. Day 2 – Thai Pongal – An elaborate meal is prepared using fresh produce from the farm. Traditionally…the raw rice dish is quite important (Pongal, a.k.a Khichdi); a mixed vegetable curry with almost all the vegetables and legumes from the season; and a sweet pongal dish as dessert. Day 3 – Jallikattu  Thanking the livestock that supported the farmers in agriculture. Day 4 – Kaanum Pongal Thanking elders and meeting friends and in general merry making.

Guess, almost all countries have their own harvest festival! So, its basically…giving thanks to natural forces, water, sun, fire…etc which helped them to succeed in agriculture.
The Festival Food Yes, the central theme of this post and blog! So, the food prepared on this day will be from farm fresh produce! 1. Pongal (the main course – rice dish) calls for raw rice, fresh hulled / hand pounded…something that we city dwellers can't find, today

So, we gladly substituted it with plain store bought new bag of rice! Lol.

2. The Kadamba Curry - calls for all legumes and all vegetables (during the season)…sounds very interesting to me, already! And…very important, absolutely shun the idea of using any kind of ready made spice blends, toady! Yep, we mean it.

Well…in olden day, the whole cooking episode used to take place in a mutram (central open space in a country house) using fire woods on specially build stone stoves. Anyway…lets just cook, now.

 Happy Sankranthi. Happy Cooking.

Ingredients 
Vegetables
White Pumpkin
Red pumpkin
Carrots
Plantain
Yam
Collacasia
Potato
Turnips
Beet Root
Radish
Broad Beans
Beans
Dry Legumes 
Indian Lima Beans
Black Eye Beans/Kidney Beans
Peas
Garbanzos
Peanuts
Green Gram
Red gram
Spices for Curry
2 large onions
15-20 garlic, crushed
4 chilies, sliced
2-4 large tomatoes
tamarind – fresh pods 6-8 shelled & soaked in warm water, puree
salt to taste
1/2 tsp turmeric
1-2 tsp chili powder
1-2 tsp chili powder
1 cup grated coconut
1 cup sesame oil
Tempering Spices
Mustard seeds 1 spoons
Cumin seeds 2 spoons
Fenugreek seeds 1/2 spoon
Peppercorns 1/2 spoon
Asafoetida 1/2 spoon
Curry leaves few
Sesame oil few spoons
Method
Day 1 – Soak all the legumes (each kind separately) in water. And, leave this set-up in the refridgerator for at least 7-10 hours.
Day 2 – Pressure cook the legumes till tender. I use pressure cooking method for hard shelled legumes like garbanzos and black eye peas. Then, take all the soft legumes to stove top cooking! Where I get more control over the texture of these beans! So, its up to you to decide.
In a wide + deep, heavy bottomed vessel, heat oil. Add chilies and wait till it splutters.
Then add onions, garlic and fry real good. Maybe until the raw odor leaves the pan. Then, add the root vegetables (potato, taro and plantain) first! After a brief cooking. Add the sem-tender vegetables like eggplant, broad beans and string beans. Then, give it some time to get cooked. Now add the watery vegetables (pumpkin, radish…etc) to the same.  Saute for few minutes. Then add salt, turmeric and chili powders.
Finally add the cooked legumes to it. Thicken the curry with tomato puree, tamarind paste and coconut. Cover and cook till its done tender and nice.
In a separate pan, heat oil. Add tempering spices and run this over the curry prepared.
Serve to go with your Ven Pongal or Milagu Pongal. Enjoy. Happy Pongal, Everyone.