Cabbage Poriyal. Muttai-Koss Poriyal. Cabbage Kura.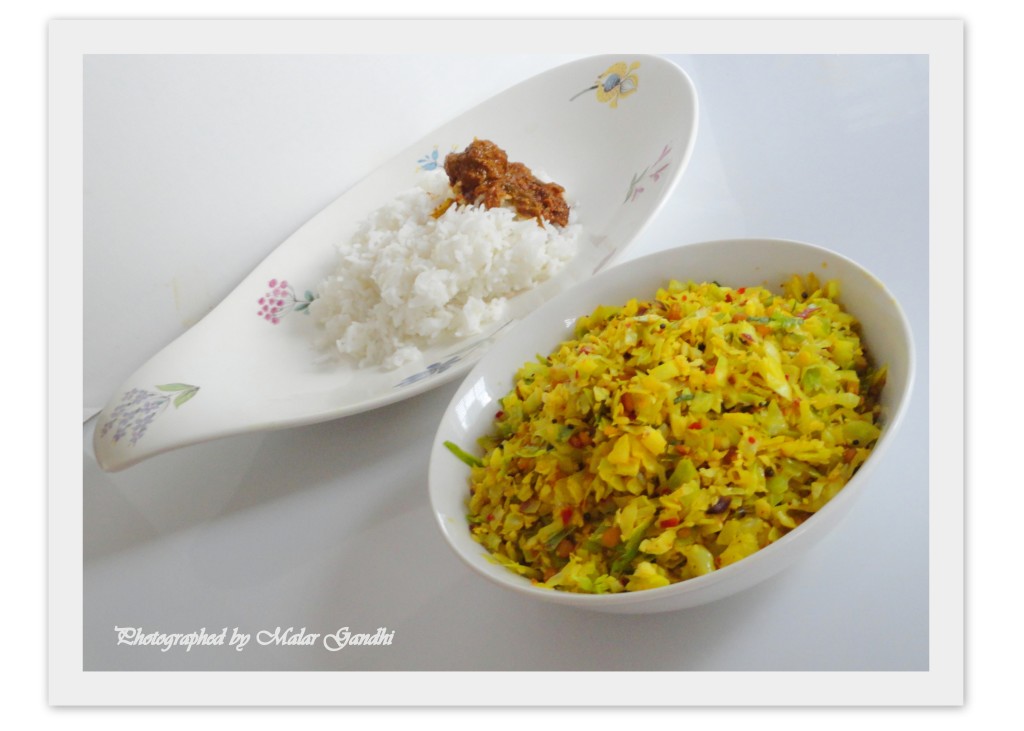 Cooking more and more vegetables for the vegetarian's need is a time consuming process! That's too much of chopping, mincing and grinding! Besides, no one is ever-completely-satisfied! So, I often come up with a new twist to the same old-recipe n just hype a lot about the dish (with my google-geared knowledge)! All I am saying is just fancy it up a little bit. And, after all…this strategy works.

Or at least for the time-being, until he figures it out!
Ingredients
1 large bowl shredded cabbage
1 inch ginger
1/4 coconut – grated
4 kashmiri red chilies
salt
1/4 tsp turmeric
few curry leaves
1 tsp urid dal
1/4 tsp mustard seeds
few tsp oil
Method 
In a wide wok, heat oil. Add tempering spices and followed by cabbage. Add salt and turmeric too. Cover and cook for about two minutes. In a blender, add coconut, dry chilies and ginger and grate them. Now, turn this on to the cabbage. Mix well over low-heat. Then transfer the contents to a serving dish. Serve to go with your South Indian meals. My special recommendation is always with Tomato Rasam. Enjoy.
Other Names Cabbage Poriyal. Koss Poriyal. Cabbage Kura.