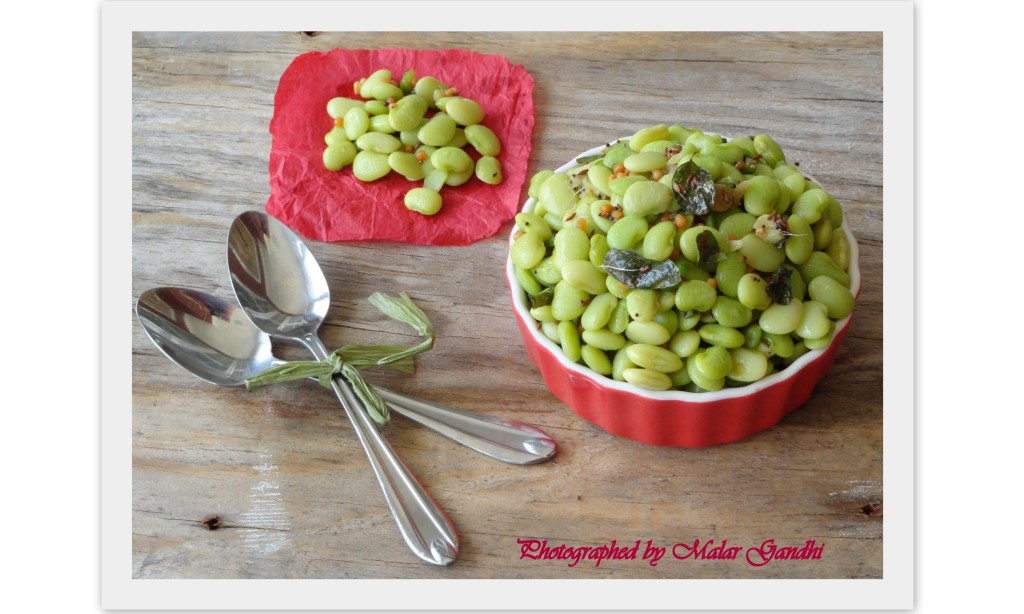 It really doesn't get much lazier than this! The result of my laziness? Super-easy 'Lima Beans Sundal', in minutes. And, I get bragging rights on this one, you see! Well…indeed, I made this from scratch, alright! A bag of frozen lima beans was lying around for several weeks. So, I figured…before it starts to germinate, grow roots and shoots, I should probably use it!!  Am sure there are too many discomforts in life, but giving up cooking on even dull-dull days…is quite impossible for people like me.

So, there you go…'Quick-Fix Sundal' it is.

Ingredients
1 bag frozen lima beans
1 inch ginger, grated
1 chili pepper, chopped
salt to taste
pinch of turmeric (optional)
1 tsp urad dal
1/4 asafoetida
1/4 cumin seeds
1/4 tsp mustard seeds
few curry leaves
2 tsp olive oil
Method
In a wide wok, heat oil and throw in the tempering spices, wait till it pop and splutters well. Then add the lima beans plus salt and a pinch of turmeric (if you like). Cover and cook. Add roughly about 1/4 cup of water to cook. Once the moisture is gone, its done…remove from heat and serve up warm as an evening snack.