I am pumped up with shopping these days! Oh yeah, I have found a nice farmer's market in my area. So, its lot of fun to visit there every weekend.

I know, I know…bit weird choice, but it brings immense happiness to bargain and shop, you see.

And, I couldn't resist buying fresh produce these days. I sincerely don't mind where its from, what its called and how much it costs…all I need is something natural on my plate. Well…that's how my culinary saga began eons ago…when I got hooked up Ethno-Botany studies! The good thing is…it never stopped there. My blog-eureka happened within years and ever since, I have been compiling all sorts of native greens and vegetables. Yep, something to brag about.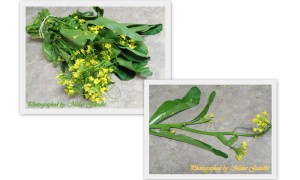 Anyway…back to food. On the other day, I came across these bright yellow flowers and at first glance…thought, its some kind of ornamental plant! But, it didn't take me long to decide it would be good for cooking! So, here you go: 'Yu Choy Stir-Fry'. For curious kiddos out there, Yu Choy' is a Chinese greens, that belongs to a mustard family and its Botanical name is Brassica napus.
Ingredients
1 bunch greens
1/4 cup cooked mung dal
1 green chili, sliced
5 garlic pods, sliced
salt to taste
1/2 tsp pepper powder
1/4 tsp mustard seeds
1/4 cumin seeds
few tsp olive oil
Method
Wash and clean the greens along with its flower. Remove the thick stalk and retain the tender ones. Now, chop them down to 1 inch sized bits, set aside.
In a wide wok, heat oil. Add the tempering spices followed by chiles, garlic and greens. Further add salt, cooked mung dal plus pepper to it.
Stir-fry briefly until the greens wilt and allow the moisture to evaporate completely.
Serve to go with you plain steamed rice or with regular South Indian meals.