Looking back, it was one of the best brunch I have ever made! It was a cold winter day…like any other boring weekend, I had all those predictable errands to run! Yet, I managed to cook this dish! Well, its a strange choice for a midday meal, I admit! But, guess what? It turned out fantastic! In other words…it was too good that, there wasn't any dispute at the table.

Ingredients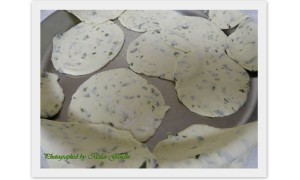 2 cups all purpose flour
1 cup fenugreek greens
1 tsp cumin seeds
1 inch ginger grated
1-2 green chili minced
salt to taste
pinch of baking soda
oil for deep frying
Method
In a wide tray, bring all the ingredients together, except oil. Now add warm water to it and prepare a smooth dough. Add one or two spoons of oil for a smooth finish.
Then, divide them into equal parts, roll them down to thin uniform thickness pooris.
Now, heat up the oil until smoky hot and maintain the stove over medium to high range. Deep fry these above pooris, one by one.
Once they are fluffy enough and done to golden brown…remove from heat. And, leave them over kitchen towels.
Serve warm along with alu masala or with curried dish.