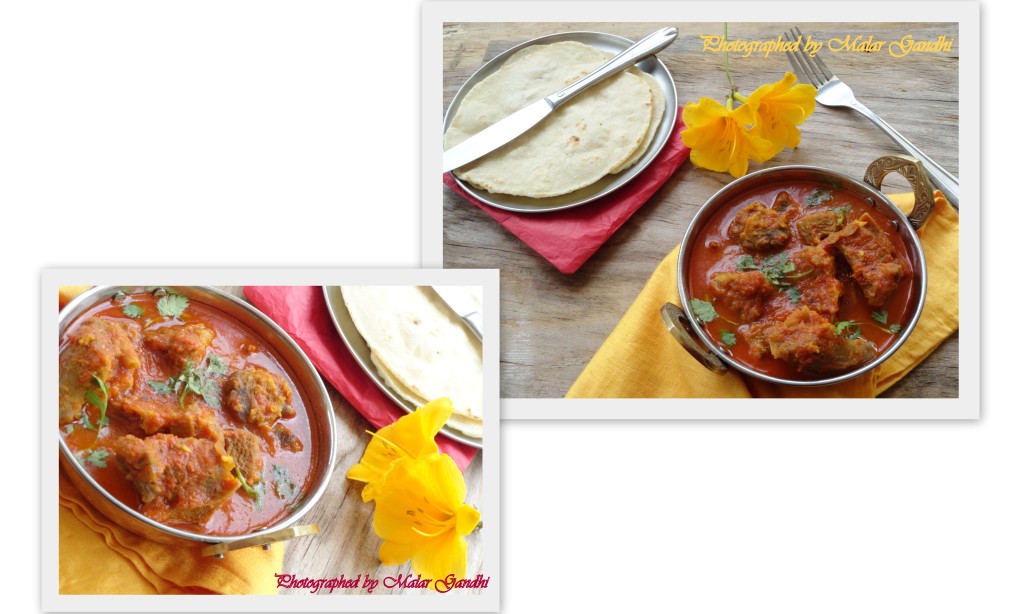 The creamy rich Rogan Josh is an ultimate comfort food. I love curling up on the couch with a hot bowl of dinner. And, the leftovers are great for the next day's lunch.

Slow cooking the meat until tender is one of my favorite method of preparing them. If you are in a hurry, you could absolutely pressure cook it. But, honestly…you are missing out something nice! Well, the cooking time could also vary depending on what kind of stove top is yours!  Since, I generally opt for extra cream in the curries, so, make sure that you use a large wok to accommodate that extra boiling and spluttering over. So, whatever you do…just relax, the end product comes out fine, rich and succulent.

Ingredients
1/2 lb goat's meat / lamb
1/2 cup yogurts
1-2 tsp lemon juice
2 black cardamom
3 green cardamom
5 cloves
1-2 bay leaves
1 tsp fennel seeds
1 stick cinnamon
salt to taste
2 tsp kashmiri chili powder
few tsp oil (preferably mustard oil)
pinch of asafoetida
mint or cilantro to garnish
Method
Marinate meat with salt, chili powder, lemon juice plus yogurts overnight. Heat oil and add the whole spices. Its better to add them in ground form. And then, add the marinated meat along with its liquid. Fry real good and add few cups of water and continue cooking over medium heat until the meat is tender enough and oil shows up on top. Remove from heat and serve warm to go with your rotis or pilaf.