This rich, creamy, buttery…yummy Matar Paneer needs no introduction at all. Most probably the best known of all Indian dishes, and the first thing we South Indians order in the restaurants.

Some of my local friends have absolutely no clue where India is. In fact they couldn't even agree that am an Asian too!! But, they are aware of the Indian Cottage Cheese, 'The Paneer'. There is an instant spark and recognition at the very utterance of the word "Paneer". And, that's the magic of gastronomy. Food makes the world smaller and friendlier, provides a base for conversation between two people who might have nothing in common.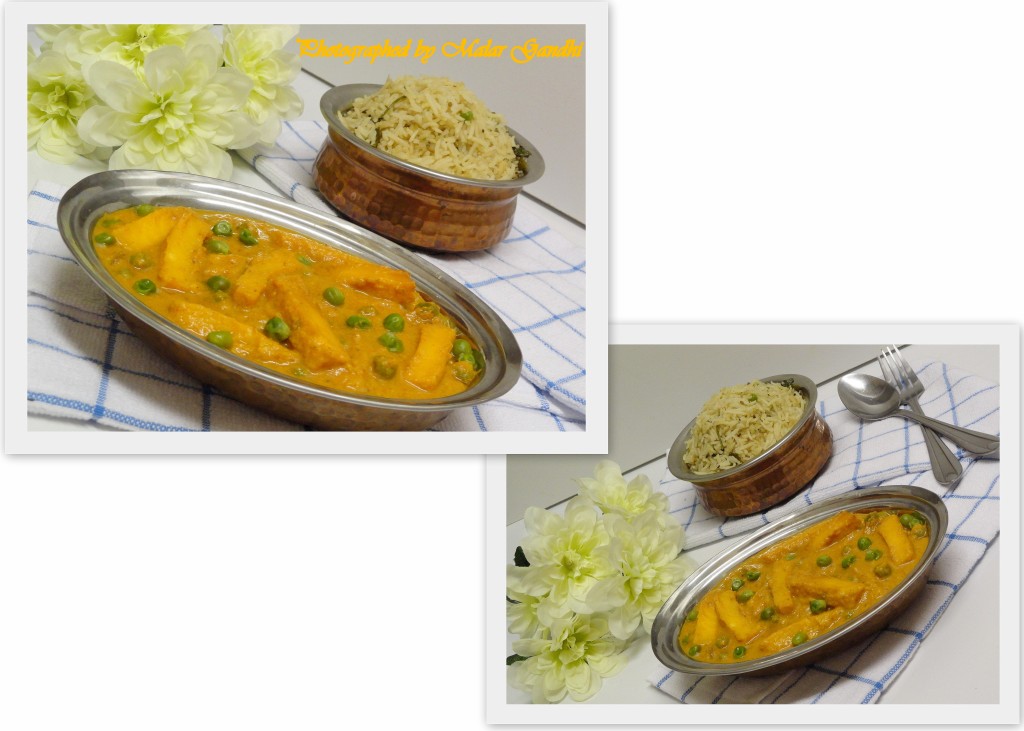 Ingredients
1 c paneer, cubed
1 c fresh green peas
1 c onion paste
1 tsp ginger-garlic paste
2 c tomato puree
1/2 c almond paste
salt
pinch of turmeric
1 tsp kashmiri chili powder
a pinch red food color
1/4 tsp garam masala powder
2-4 cubes butter
Method
In a wide wok, melt butter. Add onion and ginger-garlic paste to it. Saute for few minutes. Then stir-in tomato puree plus all the powder spices to it. Prepare a curry. Further add peas and continue cooking. When it is almost done, add almond paste and wait till the gravy thickens. Finally add the paneer and cook briefly or until it gets tender. Now, serve on this as a side dish to the North Indian meals.