Other Names: Fish fry in plantain leaf wrap. Grilled fish in plantain leaf wrap. Kerala Style Meen Varuval. Vazhailai – Poricha Meen.
If you have been keeping up with this blog since 2005, you would see the pattern here. I am a sucker for seafood. I also feel that no other food is worth making. So, today…I decided to make my most favorite fish recipe: 'Meen Polichadhu'. When I say favorite, I mean that am drawn towards that unique plantain leaves aroma.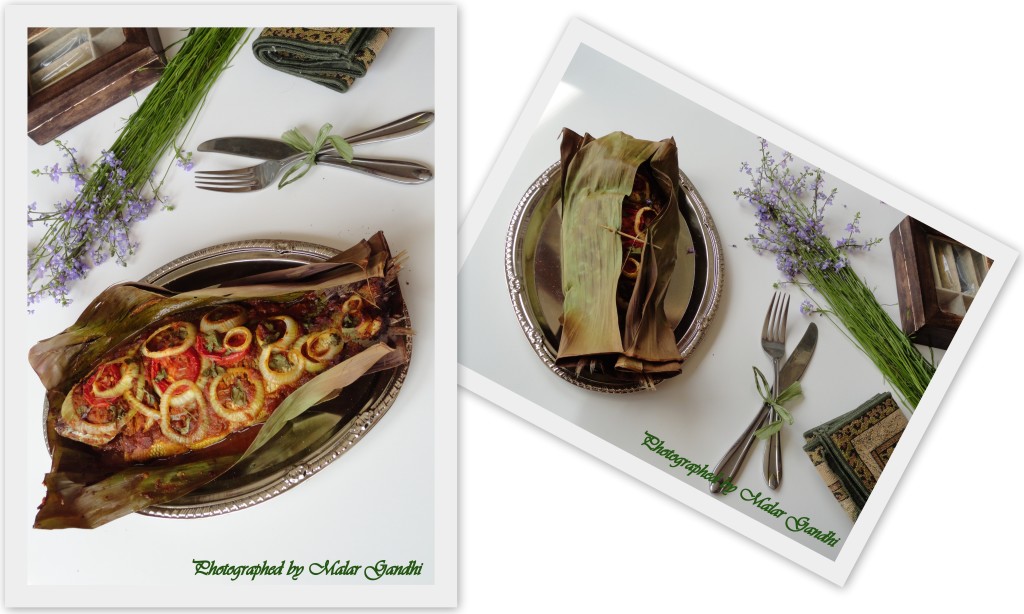 Ingredients
1 large banana leaf to wrap the fish. Alternately, one could use aluminum foil.
To Marinate Fish
1 whole fish, pearl spot (but I used some other kind, today)
salt
1/4 tsp turmeric powder
1/2 tsp chili powder
1/4 tsp pepper powder
For Masala

1 green chili, chopped
2 garlic beads, chopped
1″ ginger, chopped
1 small bulb shallot, sliced
1 small tomato, sliced
1 pinch turmeric
1/4 tsp chili powder
1/4 tsp coriander powder
1-2 tsp lemon juice
1-2 tsp oil
few cilantro leaves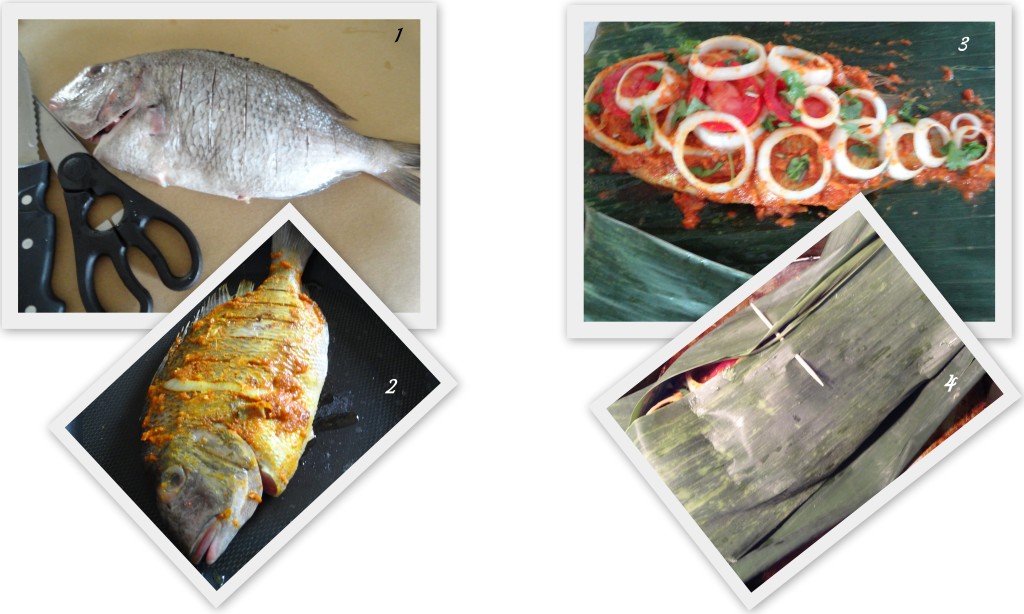 Method
Clean and trim the fins of a whole fish, give 2-4 slits on the flesh. Now marinate it for at least 2-4 hours.
In a wide pan, smear a tsp of oil and leave the fish over it for a minute (both the sides).
Then, place the fish over a clean plantain leaf, and arrange the masala ingredients on top, artistically. Cover the leaf carefully and pin it up with a toothpick or tie it up with a cotton thread/plantain string. As you please.
Now, bake this fish for about an hour over 450 ° F.  And, I also love to broil them briefly for about 2-4 minutes over high. But, its purely optional.
Then, carefully open the leaf and serve up the whole fish as side dish to your South Indian meals.