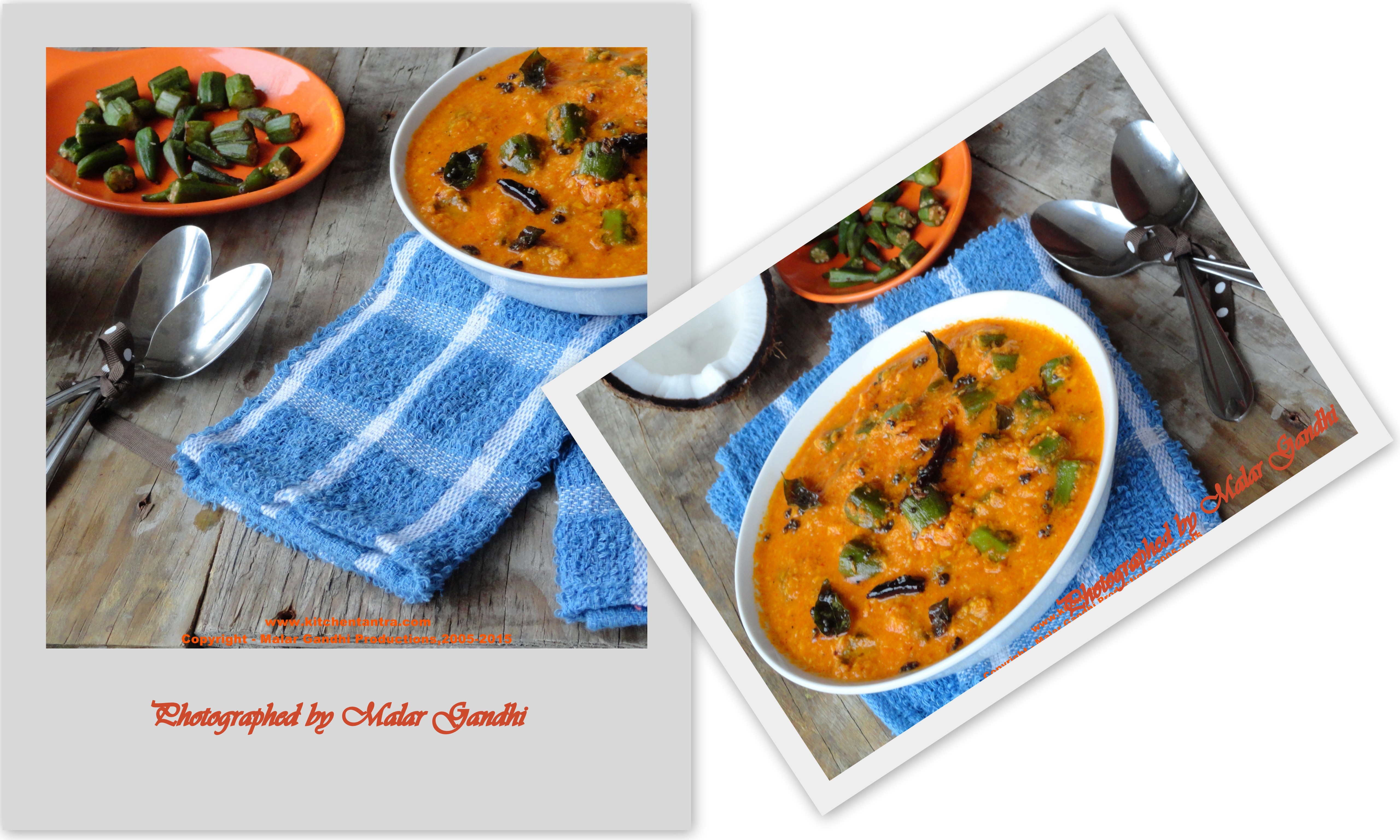 It has been a quest for finding the perfect recipe that could do double duty as a meal and as a dipping sauce. And, I finally cracked the code recently. The original recipe is shared by AK's family. But, I just made a few adjustments, adapted it to suit my needs. Well, it ended up super-delicious. Needless to say, am in bliss…tomato bliss.

Coming on to the recipe, I used the heirloom tomatoes, here. But, if you'd rather go ahead and use up the canned tomatoes, I have no objection. Although, I should warn you…it wouldn't taste the same.
Other Names Okra Tomato Curry. Bhindi-Tamatar Curry. Bendakaya Pulusu.
Ingredients
I cup okra, chopped and deep fried
1 bulb onion, chopped
4 country tomatoes, crushed
4 garlic, crushed
1/2 cup coconut, grated
salt
1/2 tsp turmeric
1 tsp chili powder
curry leaves few
1/2 mustard seeds
1/2 cumin seeds
1 pinch asafoetida
1/4 cup sesame oil
Method
In a wide wok, heat oil and add onions, garlic and fry real good. Once it is aromatic. Add tomatoes, salt, turmeric and chili powder. Cover and cook over medium heat. When the gravy thickens, add the coconut paste plus fried okras to it. Wait until the oil shows up on top. Then remove from heat. In a separate pan, heat oil and add the tempering spices, wait till they pop. Now run this seasoning over the curry made. Serve warm to go with your steamed rice.