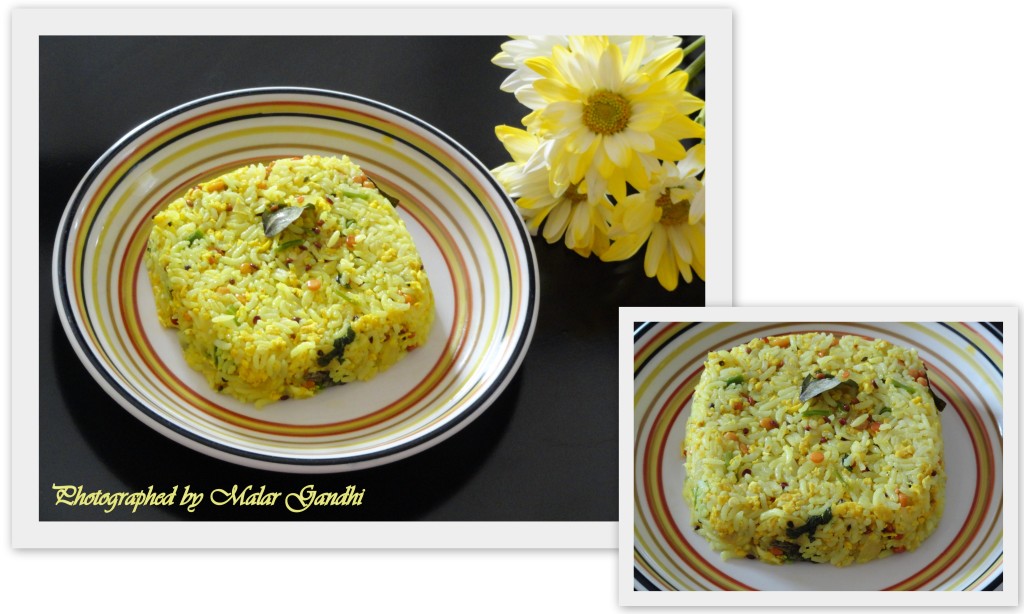 This scrambled egg rice is just about five minutes of work. Yet,the result was super-satisfying. All these days…I was juggling things & slaving around a lot,…which left me completely burnt out at the end of the day!! So, on one such occasion…I came up with this plan! Yes, cooking nothing and going to bed early! But, did I really stay asleep?? There you go, you guessed it right! Soon, I was raiding my kitchen.

When nothing got my attention…got pretty mad at myself for not stocking any ready-to-eat kind of stuff. Well, finally decided to go with Plan-B option…that is, giving a quick twist to the left-overs! Magically, within no time this simple meal got ready.  And, surprisingly it also tasted good. Gosh, cooking skill is a such a gift. And am glad that I could take-care of myself.

Ingredients
1 cup steamed rice
2 large eggs
1/4 cup milk
1-2 green chilies, chopped
1 large onion, chopped
1″ ginger, grated
salt
1/4 tsp turmeric
2 tsp chana dal
1 tsp urad dal
1/4 tsp mustard
1/4 cumin seeds
few curry leaves
few cilantro
2-4 tsp oil
Method
In a wide skillet, heat oil and add the tempering spices. Wait until they pop and splutter well.
Then add chilies, onions and ginger to it. Stir-fry real good. Further add the eggs, milk, salt and turmeric to the same. Scramble the eggs and fry for few minutes.
Finally add the cooked rice to it and mix well. Allow this to stand in heat for few more minutes or until aromatic.
Garnish with cilantro leaves and serve warm.