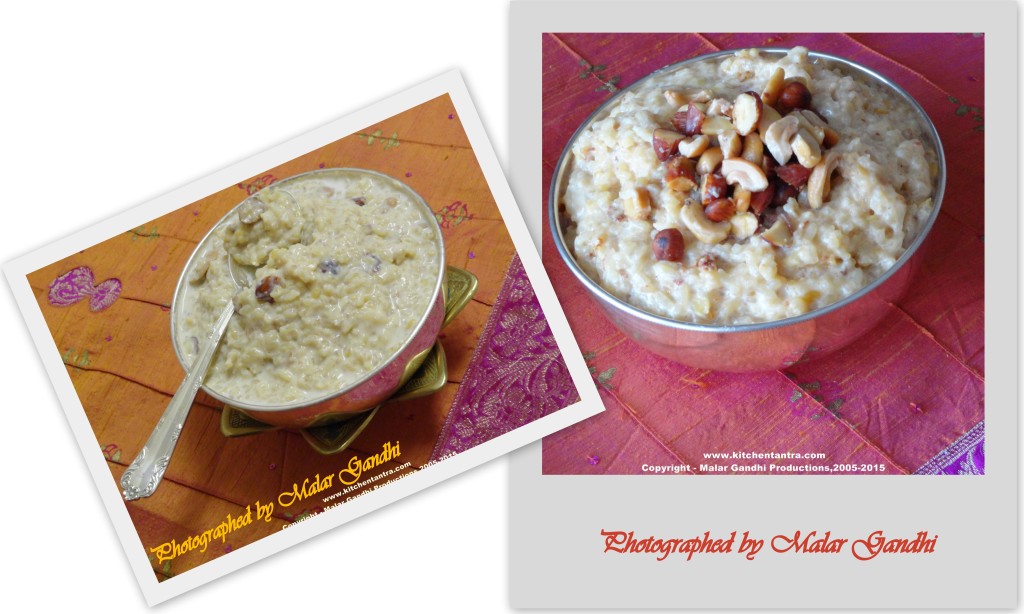 Do food rituals make the food taste better? I come from a family that is big on traditions and rituals, even when they don't make any sense (like the exact count of coconuts on a prayer plate)! But…cooking, sharing and enjoying the food just wouldn't be the same without all these formalities. My Mommy did all those meticulous job of making 27 side dishes (vegetables) for purataasi sani kizhamai; vepampoo-maangai pachadi and poli for ugadi, thivadhirai kali + kodi-kai kuzhambu for thiruvadhirai; thalige saadham for perumaal; maa-vilaku on karthigai deepam; and on vaikunda-egadesi days, a fast with tulsi-theertham is followed by a feast, where agathi keerai is a must! The specific set of food list goes on and on for each occasion…as Hindu calender is heavily punctuated with too many festivals.

Looking back, I couldn't believe that my Mommy did all this without any complaints!! Well, am through and am through already.

Anyway…I think, these traditions made the food taste better. Or at least it raises the level of expectation of a meal…even if it is just fresh fruits.
Other Names: Akkara -Adisil. Angara-Adisil. Angaravadisil. Akkaravadisal. Iyengar Special Chakara Pongal. Temple Food. Hindu-ritual meal.
Ingredients
3/4 cup raw rice
1/4 cup moong dal
1 1/4 cups palm sugar
1 1/2 cups evaporated milk
3 cups whole milk
1/4 cup ghee
15-20 cashew nuts
1/4 cup raisins
1/2 tsp cardamom powder
1 pinch raw camphor (Indian camphor for food)
Method
Cook rice and lentils together in whole milk, until tender.
Prepare a strong palm sugar syrup and run this over the rice made. Further add evaporated milk plus cardamom to it. Maintain the stove over low to medium heat, allow this to consolidate.
In a separate pan, heat ghee. Add cashew nuts and fry real good or until golden brown. Further add raisin and wait till they pop. Now run this over the mushy-rice prepared above. Mix well.
It can be served warm or at room temperature or well-chilled.