Also Known As Nopales Stir-fry. Cactus Stir-fry. Chappathi Kalli Poriyal. Chappathi kalli Varuval.
For some unknown reason, all along…I misjudged that cactus is a harmful, dangerous and must be a poisonous plant! Back home in India, never witnessed anyone harvesting it for consumption! Let alone, nor did I see the herbivorous munching it away!! Whenever, I had a chance dealing with these species for research work, I took caution and avoided touching those sharp spines.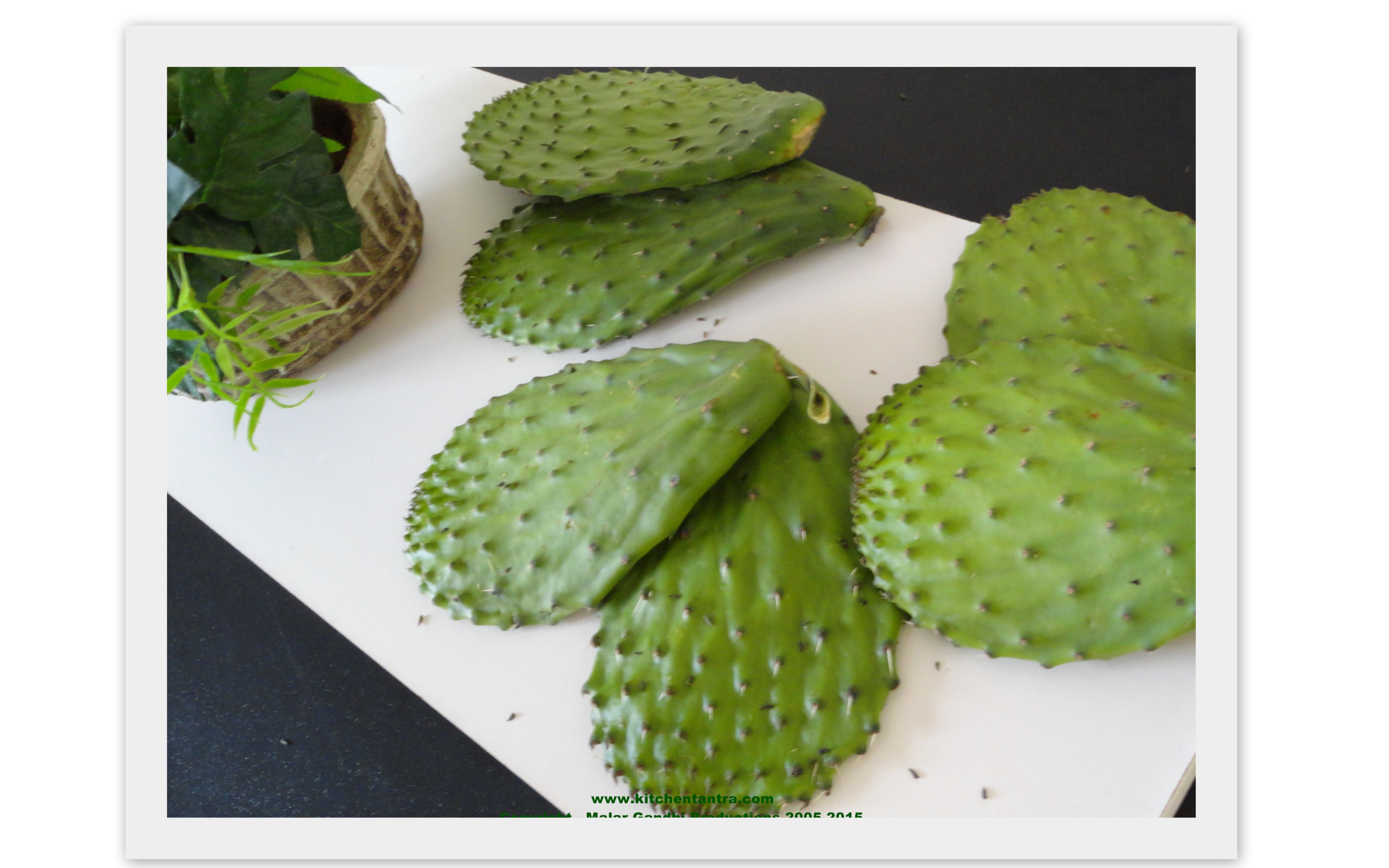 From my science background, I have known that these cactus paddles (Opuntia nopal) are not leaves, but in fact modified stems…so that the plant could survive by trapping enough water in an arid zone. And the leaves have modified into prickly thorns to keep the predators in check! How nice!…And it worked (from plant's point of view).

So, can these cactus be edible?  The answer is yes. And, its also delicious.

After migrating to U.S., had this vegetable couple of times in Mexican restaurants. But it never occurred to me to shop for one though! All until last year, when I happened to spot these cactus in the local farmer's market and ever since it has become my favorite vegetable. The vendor was kind enough to give me a little bit of intro' saying…it could taste like okras. Indeed, it did…its highly mucilaginous! Also bit sour. Guess, one has to have an acquired taste to appreciate this food! My Dad frightened away from tasting it! Well, I understand…its our innate omnivore thing to inhibit our interest in exploring unknown vegetable…but its not a bad idea, like dinning with danger.

It has been part of the Mesoamerican diet, particularly Aztecs and Mayan, since pre-Columbian times. Today, they generally harvest only the tender paddles for sale. Its a very common sight in every Mexican market, where the vendors scrape down the spines, chop and dice it up for the consumers. Mexicans prefer to relish it raw, tossing into their salads. In my opinion, grilled cactus brings up the distinct flavor, which is so unique to this vegetable.
Well… for today's recipe,  I have Indianized version of nopales stir-fry for you all to explore.
Ingredients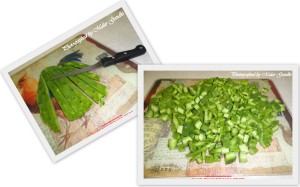 7-9 cactus
salt
1/4 tsp turmeric powder
1 tsp chili powder
2-3 garlic cloves, minced
1/2 cumin seeds
1/4 mustard seeds
curry leaves few
1 Tsp olive oil
Method
How to clean the cactus: Scrape the thorns and wash them in running tap water. Trim the end (near stalk). Then cut them into thin strips first and then dice it up.  Set aside for cooking.
In a wide, heavy bottomed wok, heat oil. Add the spices and wait till they pop.
Add the chopped vegetables, salt, turmeric and chili powder. Cover and cook for a minute or two.
Then, remove the lid and stir-fry over high until all the mucilaginous goes away and oil shows up on the sides.
Remove from heat and serve as side dish for Indian meals.