December! The most magical time of the year! Regardless of how the weather is, December is still all about comfort food and fine desserts. Christmas is the time to go all out when it comes to the spread. The warm home cooked meals are the best part of the holiday season. Some of the best memories of perfect home cooked meals are often not all about the dish, it's the sentiments associated with it. In my opinion…most often the foods that we grew up eating always taste better. It doesn't matter whether those meals were lavish or simple! It's the familiarity that counts! Brings more comfort and happiness. These are the foods that we crave when festival mood strikes.

Traditionally, comfort foods are those that provide a nostalgic or sentimental feeling when we eat it. It often triggers an insatiable craving for it once we find it hard to get it.
Hmmm… Hope you all got my point, I mean…what I've been craving for after all.

Yep…warm parottas with spicy chettinad masala.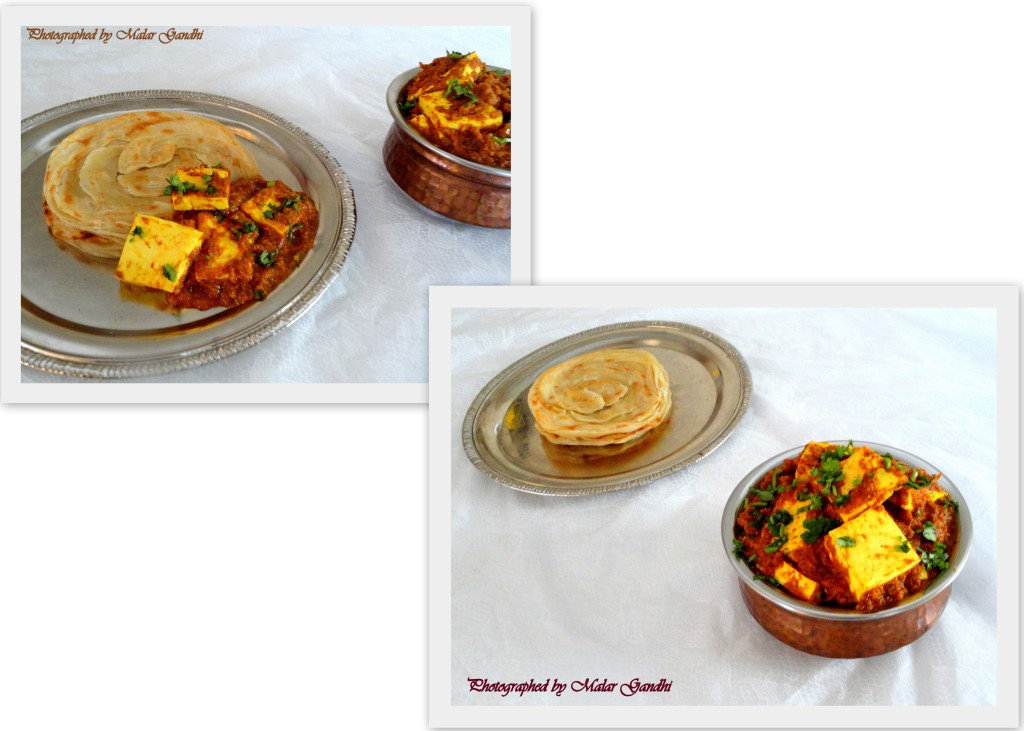 Ingredients
200 gms paneer, cut in desired shapes
1 bulb onion
3 beads, garlic
1-2 inches ginger
2 large tomatoes
salt
1/4 tsp turmeric
1 tsp chili powder
1/4 tsp garam masala
1 tsp fennel seeds
1 tsp peppercorns
4 cashew nuts
1 cup butter
Method
In a wide wok, dry toast fennel seeds, cashew nuts and peppercorns till aromatic and powder the same. Set aside.
In the same wok, melt butter and add onions, ginger, garlic and tomatoes. Fry till oil shows up on the sides and wet-grind the same. Set aside as well.
In a skillet, heat butter and toast the paneer a little till lightly golden.
Now, heat up the wok and add the wet-ground paste and fry real good. Add salt, turmeric and chili powders to it. Once the gravy thickens, add the powdered spices to it.
Further, stir-in the toasted paneer pieces to it and cook briefly. Add a spoon of butter if required.
Serve up warm to go with chappathis or parottas. It tastes good with steamed rice as well. Enjoy.
However, in today's scenario, the health conscious society, the generation old family recipes are slowly being replaced with more and more mild versions. Though these holiday meals are often some of the most delicious dishes, of course, many of the items are not necessarily the healthiest options. So, here I have created a healthful alternate recipe of some common holiday recipes.