If you are quite new to Indian cooking, it could be overwhelming to understand what I am talking! If you are planning for an Indian menu, besides the recipe…one has to pay attention to each individual dish, like which dish will go with what. Otherwise, it will spoil the whole essence of the menu. For example…if you choose Kale Stir-fry, you can't pair it up with Lemon rice. It would totally contradict the plate (although, technically one could eat it)! And, it is not always necessary to put Chana Masala as a side dish to those Pooris, you can very well combine them with other rich Curries. Oh yeah, there are few flavors that would cohere and few flavors that could clash. One has to bear this in mind, before making a menu plan.
Here, I am sharing some of my tidbits that worked for me. Hope you all will enjoy it.
When I spread the meal, I often don't repeat the same color. Like for example…Indian food is mostly dominated by rich yellowish orange hue. So, if I pick a

Korma

(Yellow )recipe, I decide something like a 

greenish

 hue side dish with a gourd or purple 

eggplant or red 

carrot

raitha. In that way, the platter looks vibrant in colors. 
Regarding flavors: Several flavors may mix well together in a same dish, but if you have super-spicy gravy with yet hot and spicy side dish…its a failure. For example…if I have Hot Inji Kuzhambu…I decide mild Cabbage Thoran to go with it. If I have mild Radish Sambar, I put spicy Potato Varuval on the side. Its that simple.
Variety and texture: Another important thing to bear in mind. For example, if I have crunchy Plantain Chips as one of the side dish on the menu, I usually choose subtle fibrous veggie stir-fry as another dish and moist yogurts based raitha as another dish . I mean, a crunch followed by softness. And, again a starchy vegetable paired with fibrous vegetable…like that, it goes on.
Meat Vs Meat. Many usually serve their Mutton Biriyani with Mutton Curry and Chicken 65. I don't!  If I have to make one meat based dish, I carefully choose some fiber rich vegetable to go with it. Additionally I mellow the heat of hot biriyani with mild Serwa and chilled Cucumber Raitha. There is no it's and but's…I never stuff meat with meat. Nor, douse the same spice again and again.
If there is some medicinal value kind of recipes in your menu that day, please try to keep it simple and appropriate. For example a Milagu Sambar should not be followed by French Fries or Gulab Jamuns.
Keep the core essence of the genre that you are cooking too. If you have Fried Noodles that day, try to incorporate more such Chinese dishes to go with it. Do not ridicule everyone with Palak Paneer or Halwa that day.
Repetition sucks: Believe me. Do not repeat the same grain, lentils or vegetables of the same kind. Keep your spice blend interesting too. If you have one watery vegetable curry (like Pumpkin Kadhi), don't use other gourds that day. Choose a rooted vegetable varuval or leafy vegetable poriyal instead. Additionally, if you use thuvar dal in your sambar, please use moong dal to top the stir-fries. And, if you happen to saute the vegetables with garam masala, douse the other dish with coconuts. If you have Tomato Rasam that day…you shouldn't serve a Tomato Pickle for sure! Keep it flowing.
If you feel, your menu is simple…just bring in more vegetable based salads, big array of cut vegetables and fruits. Only for the time like this…you will understand the value of papadams, fryums, pickles, podi and thokku.
To create a menu, you don't have to overdo everything. For example…if you have Stuffed Chicken for the entree, don't stuff those Kulchas and make those elaborate Kofta Curries. Keep it simple with plain rotis and curries. It will do the trick.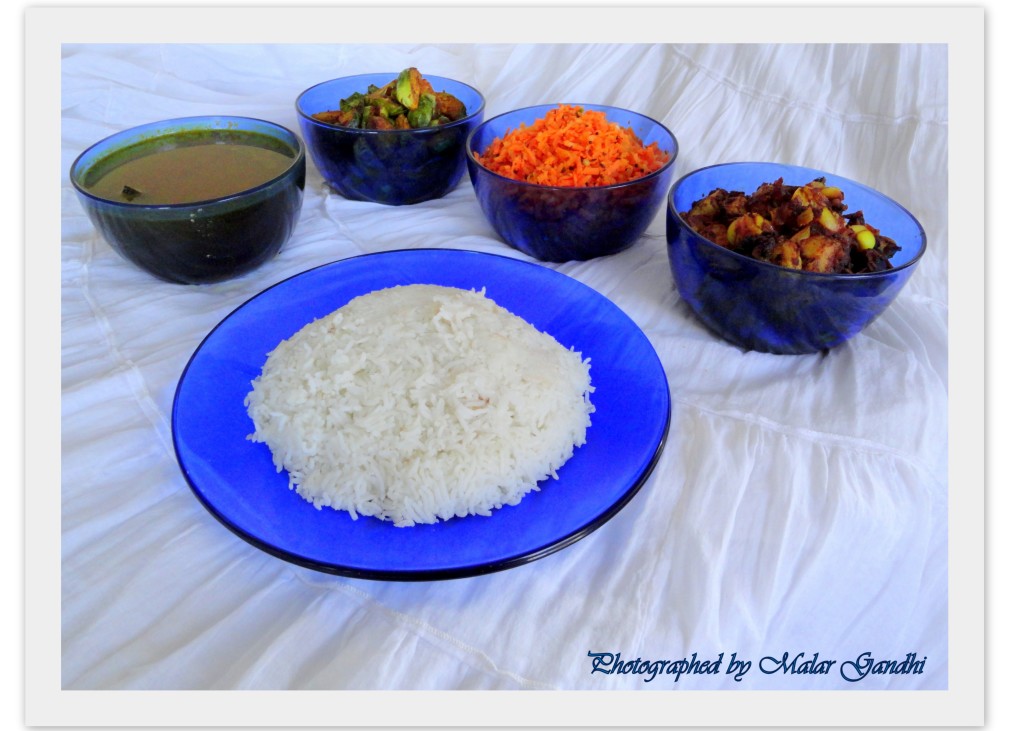 Besides all these above mentioned tidbits…our Indian food is basically served with one cup of rice, few flat breads, one dhal based curry, one rich curry, spicy roasted vegetable, stir-fries, yogurts based salad, pickle and chilled desserts.
Happy Cooking.